196
« on: March 06, 2013, 09:40:47 pm »
Hi.
I'm trying to build a graphic with the OS/2 Warp and eComStation architecture component.
I want to make a graphic inspired on some I had see for Linux and MacOS X like this ones. Something at a very high level and based on Warp 4.52 - eComStation 2.x
http://maxwit.googlecode.com/svn/trunk/document/maxwit_linux_arch_small.jpg
or
http://lh3.ggpht.com/-evdkq9J856I/THL-ZxAZB6I/AAAAAAAAeTI/VZ-ZHSV8EKQ/400px-Diagram_of_Mac_OS_X_architecture.svg.jpg
I have this draft version: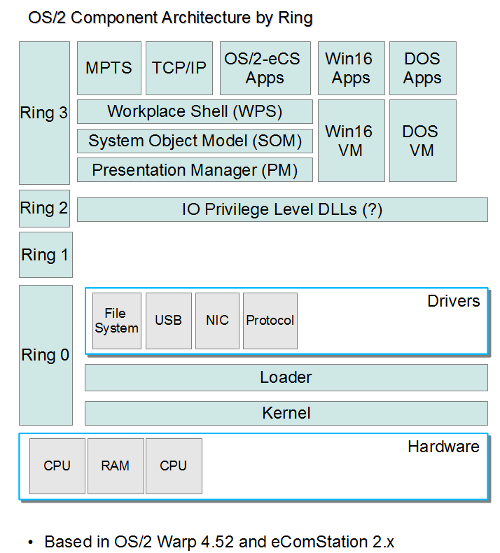 But I still miss:
- where does DIVE, DART or GPI goes? ohh and OpenDoc.
- I guess DSOM should be in same block as SOM, right?
- Uhm.. no idea what goes in Ring 2. Is there any specific component names that goes there?
- Any suggestions on how to improve the graphic?
I know we may not reach a 100% agreements since this is only a visual representation at a high level, and sometimes we really like to dig as deep as possible, but your comments are welcome.
I hope that at the end I can write something and post it on EDM/2.