PwICQ
From OS2World.com Wiki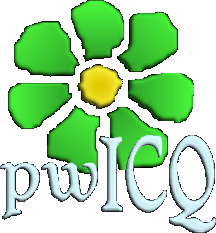 Description
Since a long time ago, OS/2 users are looking for a "usable" (native) ICQ client. The first one that appeared was ICQ Java, but ICQ Java become obsolete in a little time, since a Java version is not a priority to "those" that bought Mirabilis. Some time later, the very good text-based aICQ (Another ICQ Clone) appeared... It was a viable solution for some time, but it was a little weird to control, and there was some problems that make it crash several times...
When I was just thinking on quit searching, I discovered that Perry Werneck was just creating a new ICQ clone, 100% native OS/2 Application, that works perfectly well, and include some "non-regular" features also.
If you are an OS/2 and ICQ user, this is the program you need. It uses almost no resources and works very well... and is being developed day-by-day... it's an alpha version yet, so you are welcome to send your comments and bug reports also.
Features
At this time, version 0.29b of pwICQ complains with the version 5 of the ICQ protocol... it also includes these features (among others):
Basic ICQ message system
Urgent ICQ message system
Basic URL message system
Basic ICQ user modes
Authorization Request
Re-Connect with selectable timer
Hide IP Address
Refuse connections from unknown users
Away messages
Selectable browser to open "URL Messages"
Configurable general event sounds
Personal sounds (specific "user is online" messages for each user)
Enable/Disable sounds for each user mode
Auto change user mode on OS/2 lock
Definable helper applications
ICQ Chat with auto-hide and auto-show (only IRC-like mode at this time). Chat uses protocol v3, unencrypted
REXX Scripts on events and on ICQ Chat
"Master Options" to be used as template for all new users
Selectable translation codepage
Complete information section
Helpers optional for each user
Always accept/resume files optional for each user
Ignore messages from a specific user
Log messages from a specific user
Disable REXX Scripts for a specific user
Act always as "Visible" or "Invisible" to a specific user
Editable user information
Quote message (push F4)
File Transfers
WebAware feature
Add new users
Configuration for TitleBar controls
Update All Users on main menu
Auto-URL Message when an URL is in clipboard
Double Click Message for reply-quoted
Send buttons on message Window now are message-size sensitive
Main log feature
"Save Window Positions" feature
In Progress
These are the features being developed at this time (among others):
Netscape PlugIn
User DataBase backup
Bug Fixes
New User Search Engine
Requirements
The software requirements are:
OS/2 version 4.0, FixPack 12 and Multimedia support
ftp://ftp.software.ibm.com/ps/products/os2/fixes/v4warp/
MPTS 8610 (Recommended MPTS 8620)
ftp://ftp.software.ibm.com/ps/products/mpts/fixes/
And, if you want to use DCPLUS 866<->1251 thru DCPLUS You'll need DCPLUS.DLL http://www.os2.spb.ru/software/stuff/dcpack/dcpack.zip
The hardware requirments are:
100Mhz 486 with 20 megabytes (RAM)
Video must support at least 256 colors
Modem or Cable connection
If you had tested it and it worked ok on a system which is "lower" than the said above, please contact me (page author).
Acknowledgment
Programming:
Alfa-Testing:
Dr. Slaughter (creator of most part of the scripts)
Lech Wiktor Piotrowski
Andrey Demidenko
Ricardo Mayrink
Henry Dario Rugel
Joao Luiz Pereira Junior
Teodulfo Pinto Kollar
Special Thanks to:
|Shake-Boom|, by send "gently" messages for Perry Werneck, "forcing" him to create an OS/2 ICQ clone able to ignore users.
License
Author
Links