A Quick Warpstock 2014 Review
Jump to navigation
Jump to search
Warning: This article represent my own opinion, if you have any doubts or you believe something is no accurate I recommend checking the Warpstock videos.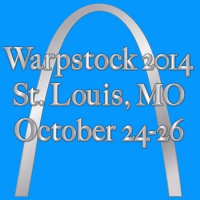 I got the opportunity to be on my first Warpstock (2014) thanks to the help and support of the community that donate money to made that trip. So, I took the flight Quito-Houston-Chicago-St. Louis and got there.
On this case I'm writing about the highlights in this very light article:
The Announcements
I think that the most expected presentations were from Mensys and Arca Noae.
Mensys
Mensys did not gave any outstanding announcements, but he summarized the current situation. Maybe I can resume his presentation on the following points:
Menso de Jong told that Mensys was under some financial problems over the last year and a half, that is why there had not being progress with eComStation.
He offered to extend free of charge the eCS software subscription until they deliver the final eCS 2.2.
Mensys listed some of their challenges, between them there is that Roderick Klein left Mensys and that some XEU developers tried to develop for the platform but they were not able to do it. Also contracts with existing developers on the community were not successful and that was the things that delayed eCS 2.2.
About the future of the platform he said:
Joachim Benjamins became the development manager for eCS. On the IRC channel Joachim told that he signed for this position on September (2014).
Menso is no longer the only share holder of Mensys and that told on the presentation that he is part of the team of "sales and product management" and that some parts of Mensys was sold.
They got some funds from other shareholders that wanted to invest on Mensys.
An agreement with Arca Noae is "almost signed".
Menso took the opportunity to thank all the people that worked in the past and present with eComStation like Roderick Klein, Joachim Benjamins, David van Enckevort, and more developers not listed there. He also showed the same plan (slides) for eComStation that I saw on the past, if I don't get it wrong Roderick already showed it on some other Warpstock.
Arca Noae - Current Development
Talking about Arca Noae the bad part was that Lewis was not able to assist because of personal problems. But I think that the message left by Steven Levine and David Azarewicz was very positive.
I will like to highlight the things that David and Steven said:
David had been working on updating the drivers, on the time that we haven't hear anything from Mensys. David has not stopped coding.
He had been working on ACPI, Network Drivers, JFS, USB and UNIAUD.
About network drivers, he had been working on a FreeBSD compatibility library (He told he is at 90% of the goal). Which he aims that with almost 0 modifications to the BSD source code you can have the driver working on OS/2-eCS (with the respective linking, compiling, etc and some debugging may be necessary).
UNIAUD it is being cleaned up by David to create a new release that can be easily updated in the future, but it is 20% complete right now, and it will take more time.
He had also been fixing issues in JFS.
He also told us that a new released of ACPI will be available once the ARCA NOAE site/shop gets ready.
Arca Noae - Company/Products
There is more about Arca Noae on Steven's (replacing Lewis) presentation:
Arca Noae wants to fill the need of additional updates to the OS.
They want to focus on releasing centralized updates and fixes.
Provide a Centralized group of developers.
Focus on running OS/2 on real hardware.
The want to set up their web shop and offer WPI and RPM packages.
They are going to do cross-licensing with developers and companies.
Software will be sold individually, in bundles and on software subscription.
They also going to offer other services like development consulting, project management, software resale with the web shop and specialized support contracts.
They are in alliance with bww bitwise works GmbH, Netlabs, Rosenthal & Rosenthal LLC and eCo Software.
Projects right now: ACPI, USB, Network, JFS, Video and AHCI. Also Firefox, Open Office, GUI front-ends RPM/YUM and more.
The Presentations
The presentations were really good. I don't want to put on the highlights because I uploaded the videos I have recorded, so everybody will be able to hear them completely and take their own conclusions.
This were technical presentations for technical people. Maybe the presentations about Arca Noae, Mensys and mine were the only ones not technical. All the people on the audience were very prepared on different subjects and has very good "deep end" knowledge of the OS/2 operating system.
Warpstock is not a huge conference, so people must be aware that a lot of conversation happens on the same presentation time. People are free to interrupt with questions and ideas on the presentation because of the size of the audience (not even mic amplification was required) does not make it complicated. A lot of very good discussion was recorded on the videos.
The People
I did have my doubts at first. Maybe I will have a hard time there, since the people that goes to Warpstock knew each other for back a long time ago, so maybe there were some kind of "Warpstock Status Quo" and had worries that I may not fit there. But I was complete wrong.
The people I meet there (all of them) are great and had a very good attitude to new comers (I'm currently 12 years on the online community but this was the first one I meet an OS/2 user on real life). I really felt good talking to each of the people on the room, hearing their histories with OS/2 and discussion about the platform. There were all class of discussion going from which apps does we use, to why my driver is not working and the more deep technical discussion about device drivers with Steven Levine and about storage/had drivers with Jan van Wijk. (...discussions that I didn't joined because my limited knowledge on that areas)
Conclusions
I think I will be collaborating more with Warpstock team in the future. Maybe I will not be able to be in person in future events, but I really want to help promoting this kind of conferences for this platform.
The teleconferences worked great, so it also opens the door to have a variety of speakers for the next year. And I think there is also a good opportunity to get more experience with the live streaming to try to turn it into a "must have" for future Warpstock. The streaming was limited and had some ads (since it was the free version), but that was all I was able to prepare on my knowledge. But I felt good that several people was able to follow what was happening at Warpstock with that. I will be also looking for more alternatives to suggest/assist the next year. The most awesome thing of Warpstock are the people that meets there and the chance you have to interact with them.
I want to thank all the people that I meet at Warpstock for opening the doors to this stranger and also thank all my sponsors.
Additional Material