Alien Invaders for the C= 128
Jump to navigation
Jump to search
by Darrel Spice
I found something I thought I'd never see again! In the late 80's I wrote one of the few games that used the Commodore 128's 80 column display. I even got mention in the 5th Anniversary Issue of INFO, which also happened to be the first issue of INFO I'd ever seen!(I had just moved to Houston, which has better bookstores than back home!). As you can see, I've had my SpiceWare logo for quite some time :-)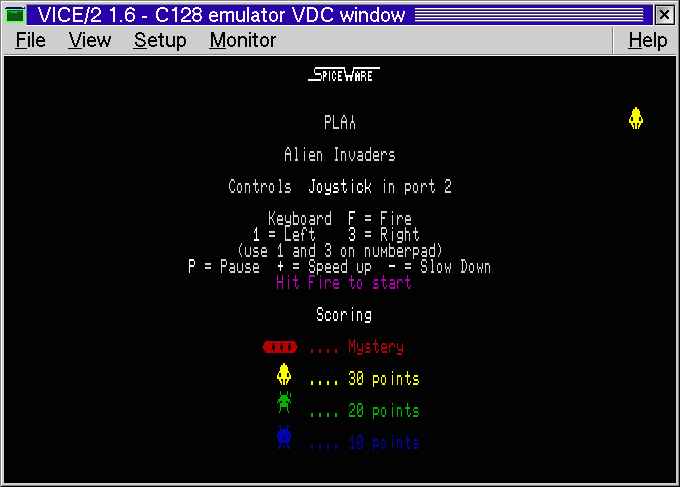 Startup Screen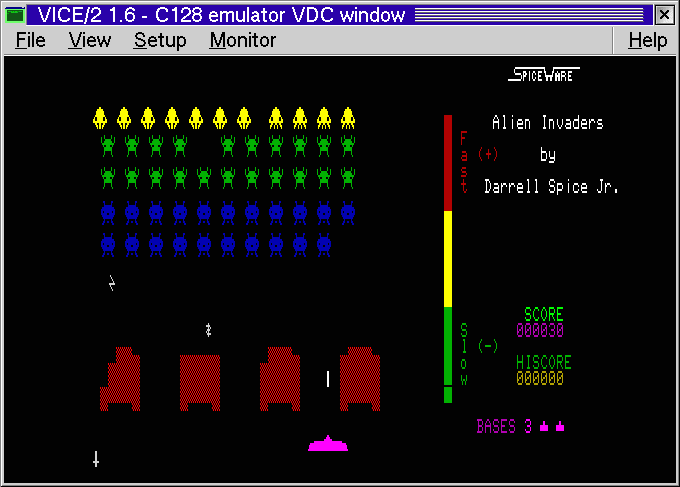 Game Screen
INFO #22, Sep/Oct 88
Here's a tip to get you started in VICE/2:
ALT-V to toggle the 40/80 button
ALT-R to soft reset(display will switch to 80)
ALT-S to turn on sound settings
ALT-J to configure joysticks
ALT-W to write config file (so you don't have to do all these steps each time)
Save the 128 Alien Invaders game file in the same directory that VICE/2 is in, and you'll be able to see it with the DIRECTORY command, and load it with the DLOAD"128INVADERS" command (remember, the " key is shift-2 on the Commodore 128).
Make sure you are running version 1.6 of VICE/2, it solves a couple problems related to the numeric keypad and joystick. The joystick should be into "Port 2" on the C128. Hit ALT-J to change where your OS/2 joystick is "plugged" into.
Download