ArcaOS
Jump to navigation
Jump to search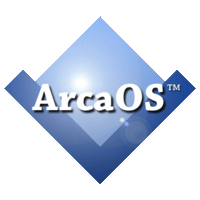 ArcaOS is the name of a PC operating system based on OS/2, that was published by Arca Noae, LLC. It includes several additions and accompanying software not present in the IBM version of the system.:
ArcaOS is a 32-bit operating system which runs on the x86 processor architecture (real or virtualised). It is based on the IBM OS/2 Warp 4.52 binary level (Also known as Merlin Convenience Pack 2 or MCP2).
History
Origins
ArcaOS was formally announced for the first time at October 23 of 2015 at the Warpstock 2015 event (An OS/2 and eComStation user group event) under the code name "Blue Lion" by Arca Noae's Managing Member, Lewis Rosenthal.
Some of the features announced at the announcement time for Blue Lion was
A new SMP kernel.
A new pre-boot menu.
A new OS installer that will support install from USB flash memory and network install.
Include the drivers that already produced by Arca Noae.
Include the latest Workplace Shell enhancements.
Include eCUPS for printer drivers.
On the Warpstock 2015 conference it was initially announced for the 3Q of 2015.
The name of "ArcaOS" was published for the first at a Tech Republic article on May 26 of 2016, while the ArcaOS domain was bought on December 20 of 2015. On that article Lewis Rosenthal announced that the first release of ArcaOS will be version 5.0 because it relates to the latest version of OS/2 Warp which was 4.0. It was also said that ArcaOS 5.1 will prioritize French, Spanish, Italian, German, and Dutch versions of the operating system.
It was told initially that ArcaOS will be sold in two editions:
ArcaOS Commercial Edition intended for the commercial use of the platform
ArcaOS Personal Edition with six months of support at a lower price.
First Release
ArcaOS 5.0 (code name Blue Lion) was released on May 15 of 2017.
Release History
Pictures
Links