Bookshelf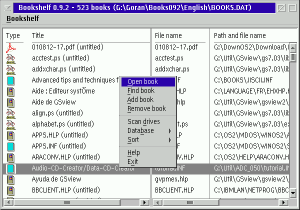 Bookshelf will scan your drives and find online books and help files (INF, HLP, PDF and PS files). Information about found books can be saved in separate databases (*.DAT files).
This program does not need any install procedure and does not change your system files (CONFIG.SYS and system INI files).
Bookshelf is available in English and Swedish (thanks to Björn Söderström).
Source code is included. To modify source, you need DrDialog, a visual programming environment for Rexx.
License
Open Source under the GNU GPL license
Author
Links
[books092en.zip version 0.9.2, 2002-03-22]