Clock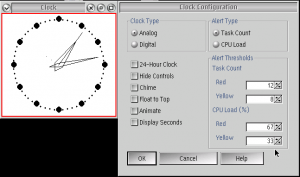 Clock provides an analog or digital clock for the OS/2 desktop, and, because my boss wanted it to do so, it also monitors the system load, either as a percentage of CPU usage, or as a count of active tasks. The clock's border changes color from green to yellow to red as the system load increases. The threshold values for these changes can be set by the user.
To translate the program into another language, feel free to make your own version of ENGLISH.DOC, ENGLISH.CMD, ENGLISH.RC and ENGLISH.IPF.
Installation
Run the installation file ENGLISH.CMD. It will ask you where you want the program stored and whether you want it to be placed in the startup folder. The job will create a program object and place it either on the desktop or in the system startup folder. This object will have all its attributes set up correctly for running the program.
History
Download
License
Open Source
Author
Translations: