ConfigMaint/2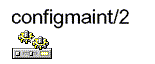 ConfigMaint/2 is a free PM Config.Sys analyzer / optimizer and is some sort of the sucessor for 'ConfigInfo'.
Among others, thanks to Klaus Staedtler, who updated the Config.Sys data and compiled many tips and tricks and helps starting the progress of 'CM/2', you should now have a system utility which may help to understand the differnt Config.Sys entries better and furthermore helps you to detect bugs.
Features: Integrity and dupe check while loading, database with over 400k of context sensitive information, additional infos for drivers and files, simple edit functionality, config sorter, WYSIWYG recovery options editor etc.
Links
License