DBase Info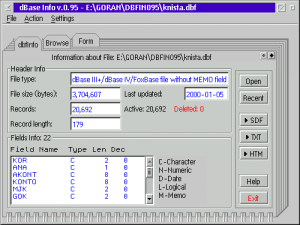 dBase Info is viewer for DBF (dBase III+/IV, FoxPlus, FoxBase) files, with basic functions (GOTO, FIND, SUM, AVG, MIN, MAX). DBF file can be written to different file formats (SDF with PRG, ASCII text and HTM). You can select: range (start and end record) and sort options (no sort, ascending or descending) in output file. dbase Info only reads values from DBF file (no changes are written to file).
Language support for English, Croatian, German, Italian, Polish, Swedish, Spanish and French. To add your Language support for dBase Info, download Translation tool, and read included Translat.txt for instructions.
Download
UPDATE: French Language support for dBase Info - download dbfinlng.zip (6 kb), copy to your dBase Info directory and run dbflang1.cmd script.
License
dBase Info is free software but it is not public domain. The author retains all copyright to the application and all files within it. You may use dBase Info yourself and you may distribute it to others so long as all files are left unchanged. You may not distribute dBase Info in any way which leads to your making a profit from it. This means that you can only charge enough to cover the costs of media, postage etc. involved in distribution. Also you may not use it as an incentive to buy something else. If you are in any doubt you should contact the author. The author's permission must be obtained before dBase Info is included on a magazine disc and P.D. libraries. You should, as a matter of courtesy, inform the author when you are planning to distribute the application and send one copy of magazine disc to the author.
Author
Translations
Klaus Staedtler - German
Francesco Loffredo - Italian
Przemyslaw Pawelczyk - Polish
Björn Söderström - Swedish
Eduardo Vila-Echagüe - Spanish
Guillaume Gay Translated - French