EmperoarTV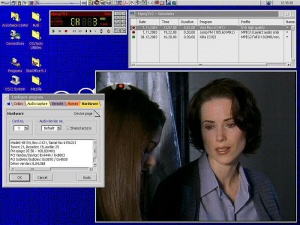 EmperoarTV DVB is a digital and analogue TV and radio application and drivers for the OS/2 and eComStation platform that allows viewing, playback and recording of radio & television signals from terrestrial, cable or satellite sources.
Download
Prerequisites
OS/2® Warp 4 or later, any eComStation version.
USB base driver package 10.162 if you intend to use a USB stick tuner.
Pentium® 3 at 800 MHz or better
128 MB RAM minimum, 256 MB or more recommended.
OS/2-supported sound card, preferably supporting a 48 kHz sample rate.
5 MB of hard disk space for installation, several GB of free hard disk space are recommended for your recordings.
Any graphic driver will do but SciTech SNAP Graphics 3.x with accelerated hardware and WarpOverlay! 1.0.5 or higher work best.
One or more supported TV/PVR or DVB hardware:
Analogue - PCI
Hauppauge WinTV-PVR-150
Hauppauge WinTV-PVR-250
Hauppauge WinTV-PVR-350
Hauppauge WinTV-PVR-500
DVB-C - PCI
KNC One TV-Station
Technotrend Budget C-1500
Technotrend Budget C-1501
Terratec Cinergy 1200 DVB-C
DVB-S - PCI
Creatix CTX929 DVB-S PCI
KNC One TV-Star
Satelco EasyWatch PCI
Technotrend Budget S-1100
Technotrend Budget S-1102
Technotrend Budget S-1400
Technotrend Budget S-1401
Technotrend Budget S-1500
Terratec Cinergy 1200 DVB-S
DVB-T -PCI
Satelco EasyWatch PCI
Terratec Cinergy 1200 DVB-T
Technotrend Budget T-1500
DVB-T - USB
AVLabs AVL680HD
Geniatech T328B4
MSI Digivox Duo
MSI Digivox Mini III
Terratec Cinergy T2
Terratec Cinergy T XE Rev. 2
Terratec Cinergy T-Stick
Languages
English - Built in.
German - Separate download.
License
Closed source. Was commercial, is now freeware
Author
Links