FTP Browser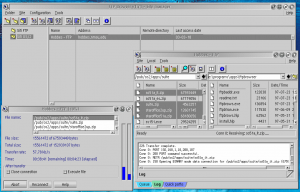 FTP Browser is a powerful and intuitive FTP solution for OS/2 that features drag and drop, server to server and directory tree transfers accross a variety of hosts. Resume is supported both in download and upload.
Features
FTP site manager that stores sites in folders
References to site objects on the Desktop
Drag and drop enabled for transfers, queueing, site manipulation and more
Ping feature to test site responsiveness before connecting
Unlimited number of simultaneous connections to the same site
Multiple and simultaneous transfers to the same site
Graphical file transfer display
Host redialing for busy sites
Seamless reconnects for lost connections
Automatically resume interrupted transfers, resume partially transferred files
Transfer queue for storing items to transfer
Recursive directory tree transfers and deletes
Server to server tree and file transfers
Configurable file associations for viewing downloaded files
Communications log with save to file option
Hooks for command file execution after file transfers
Download information optionally written to file EAs
Drag and drop color and font configurability
Installation
Unzip and run install.exe. To apply Y2K patches:

lxlite -X+ -B- ftpbrows.exe
patch ftpbrowspatch.pat /a
lxlite -X- -B- ftpbrows.exe
lxlite -X+ -B- ftpbtran.exe
patch /a ftpbtranpatch.pat
lxlite -X- -B- ftpbtran.exe

If after installation you have problems saving new sites, delete FTPBADDR.INI.
License
Links