HP EliteBook 8540w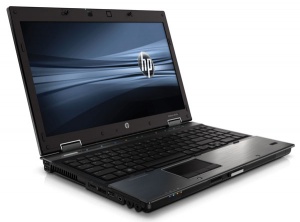 General Specs
Model Number:8540w
Processor: Intel Core i7 620M / 2.66 GHz
Memory: 4GB
HDD:
Graphics:
Chipset Type: Mobile Intel QM57 Express
Release Year: 2010
Devices
| Component | Name | HardwareID | Status | Driver |
| --- | --- | --- | --- | --- |
| Processor | Intel Core i7 | | | ACPI ver 3.23.01 |
| HDD | Intel 5 Series/3400 Series Chipset 6 port SATA AHCI Controller | 8086:3B2F | | OS2AHCI |
| Audio | Intel 5 Series/3400 Series Chipset High Definition Audio | 8086:3B56 | | |
| Video | NVidia GT215GLM [Quadro FX 1800M] | 10DE:0CBC | | Panorama 1280x800 |
| USB 2.0 (3 Ports) | Intel 5 Series/3400 Series Chipset USB2 Enhanced Host Controller | 8086:3B3C | | Included on eCS and Lar's USB too. |
| USB 3.0 (2 Ports) | NEC uPD720200 USB 3.0 Host Controller (UHCI) | 1033:0194 | | Not Working |
| Network | Intel 82577LM Gigabit Network Connection | 8086:10EA | | Multimac E1000E |
| Wireless Network | Intel Centrino Advanced-N 6200 | 8086:4239 | | Not Working |
| Wireless Bluetooth | | | | Not Supported |
| eSata Port | | | | Not Tested |
| Firewire port | Ricoh R5C832 IEEE 1394 Controller | 1180:0832 | | Not Tested |
| Card Reader | Ricoh R5C822 SD/SDIO/MMC/MS/MSPro Host Adapter | 1180:0822 | | Not Tested |
| Card Reader | Ricoh R5C843 MMC Host Controller | 1180:0843 | | Not Tested |
| Card Reader | Ricoh R5C592 Memory Stick Bus Host Adapter | 1180:0592 | | Not Tested |
| Card Reader | Ricoh xD-Picture Card Controller | 1180:0852 | | Not Tested |
| Card Reader | Ricoh RL5c476 II | 1180:0476 | | Not Tested |
General Comments
The new ACPI ver3.23.01, works perfect, a maximum resolution of 1280x800 monitor with panorama in 16m.colors, with beta2 ecs22. Only at first the mouse on the websites, to an annoying flicker that has been removed and not know why.
The wifi I can not start it, although I have seen various web sites [1] and the links on this page. I guess I need a file NETwNs32.reg.
The sound not sounds, but catches my attention that when you start the airboot, a blue light indicating a speaker at startup that light turns orange indicates banned or off, and when I turn off the system, turn it on again and it makes some noises from the speakers, seconds after it is turned off.
Hardware Manager Report
Links