INI Tools
Description
INI tools (formerly known as INIedit) is an INI editor for binary OS/2 INI and plain-text WIN INI files with integrated tools to compare INI files and search multiple files for a string.
Features:
INI editor


Data (Applications, Keys and Values) can be exported and imported between INI files. Current INI file can be used as template for Rexx script to create new INI file. If SafeMode is ON, INI file can be only viewed (useful to prevent dammages).


INI compare


You can compare two OS/2 INI files and find differences between them. Result can be saved to new INI file, Rexx script or Report.

INI find


You can find particular string in selected OS/2 INI file(s). Result can be written to file. Found Value in multiple files can be changed to new Value.

News
NEW (2001-04-12): Test version of INI editor with new features:
Edit local INI files (on your computer) and remote INI files (on remote host).
To test INI editor 1.2.0, download iniedit120.zip, unzip in new directory and run INIinst.cmd script. If you want to edit INI files on remote host, INI editor will work as client. The server part (in package server.zip) should go on the machine with the INI files to be edited. For evaluation purposes, you can put both parts on the same machine (even in the same directory if you prefer). For more information, read file iniserve.inf in the server package (server.zip).
If you are already using INI tools, DO NOT unzip iniedit120.zip to INI tools directory (configuration files are different). Create new directory for INI editor.
UPDATE (2000-08-25): Swedish and Slovenian Language support for INI tools.
Download initool110lng.zip (47 kb), copy to your INI tools directory and run Swedish.cmd to add Swedish language and/or Slovenia.cmd to add Slovenian language.
Screenshots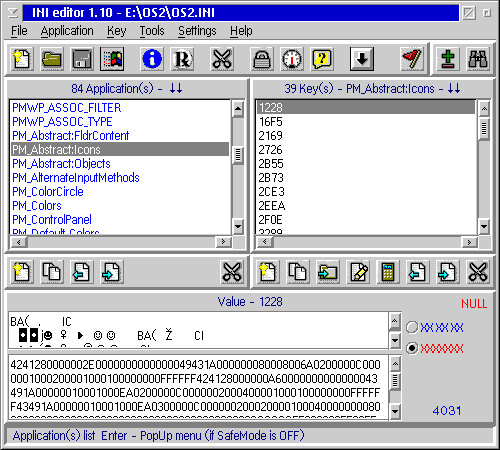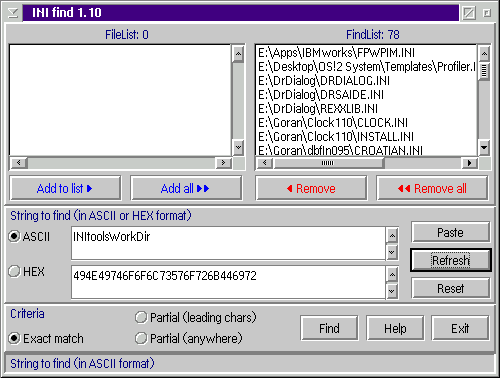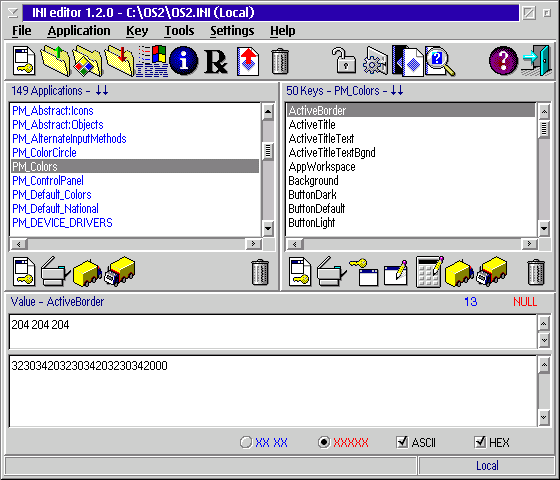 Download
LICENSE
INI tools is free software but it is not public domain. tools The author retains all copyright to the application and all files within it. You may use INI tools yourself and you may distribute it to others so long as all files are left unchanged. You may not distribute INI tools in any way which leads to your making a profit from it. This means that you can only charge enough to cover the costs of media, postage etc. involved in distribution. Also you may not use it as an incentive to buy something else. If you are in any doubt you should contact the author. The author's permission must be obtained before INI tools is included on a magazine disc and P.D. libraries. You should, as a matter of courtesy, tools inform the author when you are planning to distribute the application and send one copy of magazine disc to the author.
DISCLAIMER
The author makes no representations about the accuracy or suitability of this material for any purpose. It is provided "as is", without any express or implied warranties. The author will assume no liability for damages either from the direct use of this product or as a consequence of the use of this product.
AUTHOR
Special thanks
| | |
| --- | --- |
| Franck Bouillard | Translated INI tools to French. |
| Klaus Staedtler | Translated INI tools to German. |
| Peter Vereshagin | Translated INI tools to Russian. |
| Alfredo Fernández Díaz | Translated INI tools to Spanish. |
| Titus Ou | Translated INI tools to Traditional Chinese. |
| Przemyslaw Pawelczyk | Translated INI tools to Polish. |
| Bjorn Soderstrom | Translated INI tools to Swedish. |
| Dusan Golubic | Translated INI tools to Slovenian. |