Intel Desktop Board DB85FL
Jump to navigation
Jump to search
General Specs
Socket

LGA1150

Chipset

Intel B85

Release Date

Q2'2013
Devices
Component
Name
HardwareID
Driver
Status
Processor
Intel Core i7-4770
Working
--
ACPI
Audio
Intel Xeon E3-1200 v3/4th Gen Core Processor HD Audio Controller
8086:0C0C
UNIAUD32.SYS, UNIAUD16.SYS
Not working
Audio
Intel 8 Series/C220 Series Chipset High Definition Audio Controller
8086:8C20
UNIAUD32.SYS, UNIAUD16.SYS
Not working
SATA
Intel 8 Series/C220 Series Chipset Family 6-port SATA Controller 1 [AHCI mode]
8086:8C02
OS2AHCI
Wirking
Video
Intel Xeon E3-1200 v3/4th Gen Core Processor Integrated Graphics Controller
8086:0412
-
USB 3.0
USB 8 Series/C220 Series Chipset Family USB xHCI
8086:8C31
-
USB 2.0
Intel 8 Series/C220 Series Chipset Family USB EHCI #2
8086:8C2D
-
USB 2.0
Intel 8 Series/C220 Series Chipset Family USB EHCI #1
8086:8C26
-
Networks
Intel Ethernet Connection I217-LM
8086:153A
General Comments 1
Tested with eComStation 2.2 beta 2.
BIOS Settings
This machine has a "Legacy Boot mode" to not only depend on UEFI BIOS.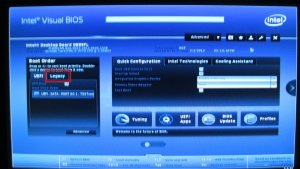 If the legacy mode is turned on in the BIOS, eComStation will boot. Otherwise it will show you an error.
A bootable device has not been detected.
Please refer to the Product Guide at http://support.intel.com/support/motherboar
ds/desktop/

ACPI - Boot
eComStation 2.2 beta will boot on this configuration (DB85FL with Intel Core i7-4770) as a standard boot.
The ACPI driver will recognize 8 cores, maybe because has Intel® Core™ i7-4770 Processor 8 threads according to its specification.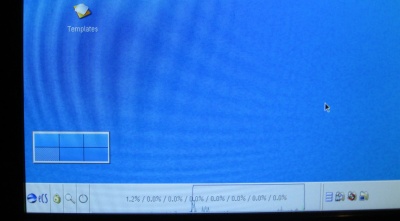 Audio
The mainboard has a "Intel Lynx Point PCH - High Definition Audio Controller [C1]/ Codec: RealTek ALC662". UniAud shipped with eCS 2.2 b2 was installed, the device get recognized on the boot but it produces no sound.
Video
The mainboard has a "Intel Haswell-DT GT2 - Integrated Graphics Controller [Intel] - Intel HD Graphics 4600" video chipset. On the installation Panorama was installed and a 1920x1080 resolution was selected for the next boot. It worked without any major issue.
USB 2.0
The USB 2.0 ports were recognized by the eCS 2.2 installer. Also an USB mouse and keyboard was used during all the install procedure without issues.
Network
The wired network adapter "Intel I217-V (ClarkvilleV) Network Adapter / Intel(R) Ethernet Connection I217-V" was not recognized by the installer. Some intel network drivers was tested (E1000e.OS2, E1000_c.OS2, E1000.OS2) without being able to make it work.
General Comments 2
Tested with ArcaOS 5.0.6 (beta) with UEFI and GPT support. It installed and booted the OS.
BIOS was enabled as UEFI
GPT partition where used on the Hard drive.
Video worked with Panorama
Audio was not possible to be further tested.
Hardware Report
Links