Lenovo ThinkPad 25 - Retro
Jump to navigation
Jump to search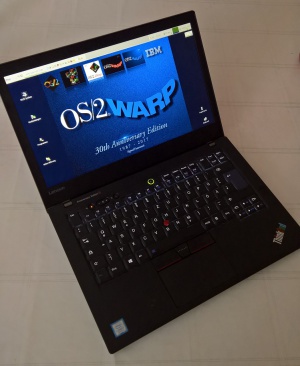 General Specs
Part Number:
Processor: 7th Generation Intel® Core™ i7-7500U Processor (2.70GHz 4MB)
Memory: 16.0GB DDR4 SODIMM 2133MHz
Graphics: NVIDIA GeForce GT 940MX 2GB
Wireless: Intel Wireless-AC 8265 (2x2) AC
Devices
| Component | Name | HardwareID | Status | Driver |
| --- | --- | --- | --- | --- |
| Processor | 7th Generation Intel® Core™ i7-7500U Processor (2.70GHz 4MB) | | | ACPI- Boots |
| HDD | Advanced Host Controller Interface | | | OS2AHCI |
| NVMe | | | | Works with Arca's NVMe driver. |
| Audio | | | | Works with latest Uniaud |
| Video | NVIDIA GeForce GT 940MX 2GB | | | Not Tested |
| Network | Intel Ethernet Connection I219-V | | | Using E1000B LAN Driver from Arca Noae. |
| Wireless Network | Intel Wireless-AC 8265 (2x2) AC | | | Not Working |
| Wireless Bluetooth | | | | Not Supported |
| USB 3.0 | - | | | Works with Arca's USB Driver |
| WebCam | Integrated WebCam | | | Not Tested |
General Comments
Report by Sigurd Fastenrath

OS/2 Warp 4.52

OS/2 Warp 4.52 was installed by removing the Hard drive and cloning an image into it with DFSee.
The Thinkpad 25 (based on the Thinkpad 470) has an option to disable the Touchpad in BIOS.
The HDD was preinstalled with Windows 10 and it has GPT layout.
Secureboot has to be deactivated, UEFI has to be switched to Legacy
The M.2 NVMe SSD hard disk that came with the machine did not had OS/2 drivers at the time of this machine was released. It was replaced with a M.2 SATA card, the 1TB WD Blue 3D NAND SATA SDD M.2 2280 to have it working on OS/2, but please remember that not all M.2 NVMe adapters have SATA compatibility.
ArcaOS 5.0.6

ArcaOS 5.0.6 installation via USB Stick possible, one has to wipe the SSD though.
NVMe SSD hard disk was later tested and reported as working with Arca's NVMe driver.
Links