Lenovo ThinkPad SL300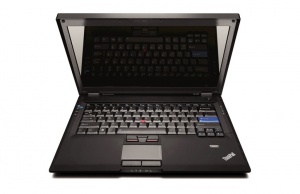 General Specs
Model Number: NS68-XGE
Processor: Core2Duo T5870
Memory:
HDD:
Graphics:
Release Year:2008
General Comments
By Sigurd:
Installed eCS 2.0 RC 6a, had to use external USB DVD to install, otherwise the internal DVD sets itself to sleep during installation.
work perfect!
Display with 1280x800 16M Panorama VESA - Intel 4500
Network - Realtek 8168, supported by GENMAC
All USB ports
Sound (HDA)
ACPI
Core2Duo T5870
also WINOS2 in APIC mode (!)
Touchpad
Topics to do:
WLAN (Intel5100 abgn)
Internal DVD (falls to sleep)
Bluetooth, Webcam..
Links