Lenovo ThinkPad T450s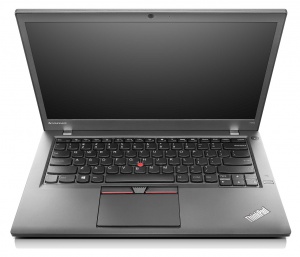 General Specs
Model Number: 20BWS2KM00
Processor: Intel Core i7-5600U Processor (2.60GHz)
RAM: 12 GB RAM
HDD: 512 GB SSD SSD SATA III Toshiba THNSNJ512GCSU
Display: 14.0 in 1920x1080
Graphics: Intel HD5500 /1GB NVIDIA GeForce GT 940M 1GB Graphic
720p HD Camera
Media Card Reader
Fingerprint Reader
UltraNav ()
Ethernet
Intel Wireless 7265AC(2x2)+BT4.0 M.2 Combo
UMTS/WWAN ready
No Dockingport (only models without NVIDIA Grapic do have a Docking Port)
No Smart Card Reader (only models without NVIDIA Grapic do have a Smart Card Reader)
Trackpoint
Touchpad
Devices
| Component | Name | HardwareID | Status | Driver |
| --- | --- | --- | --- | --- |
| Processor | Intel Core i7-5600U Processor (2.60GHz) | | | ACPI |
| ACPI | Intel Thermal Management Controller | 8086:9CA4 | | ACPI 3.23.01 |
| Video | Intel HD5500 /Nvidia 940M | 8086:1616 / 10DE:1347 | | Panorama, Mini Display Port does work with Panorama as well |
| Audio | Intel Broadwell-U Audio Controller / Wildcat Point-LP High Definition Audio Controller | 8086:160C / 8086:9CA0 | | Not Working |
| Storage Controller | Intel SATA Controller | 8086:9C83 | | DANIS506 / OS2DASD / OS2AHCI |
| USB 2.0 | Intel EHCI | 8086:9CA6 | | Works |
| USB 3.0 | | | | Not Supported |
| Wired Network | Intel I218-LM | 8086:15A2 Revision 3 | | Supported since Multimac 20160201 from Arca Noae |
| Wireless Network | Intel Wireless 7265AC(2x2) | 8086:095B | | Not Working |
| Card Reader | Realtek Semiconductors RTS5227 | 10EC:5227 | | Not Tested |
| WebCam | Acer | 5986:0366 | | Works [Wim Brul: use uvcview or weblook/webview with parameter /i1 or /i4] |
| Fingerprint Reader | Validity Sensors | 138A:0017 Release 0078 | | Not Supported |
General Comments
UEFI BIOS: On the Thinkpad BIOS you need to set it to "Support CSM mode" and "Disable Secure Boot" for OS/2 to boot.
USB: In the Lenovo BIOS you need to disable USB 3.0 support, then those are used as 2.0 Ports. That option is only available for the Lenovo Thinkpad up to the 50 series (X250,T450,W550) but not for the brand new 60 series.
INSTALLATION: Installation from DVD up to eCS 2.2b2 is not possible. The so far only succesfull way for me: cloning an existing OS/2 Warp 4.52 (updated) or eCS (updated) installation with DFSEE and restoring the Clone then
BOOTMANAGER: Using Airboot Manager gives the chance to use different Operating systems, this device came without an Operating System, I am using Windows 10 alongside OS/2 Warp 4.
GRAPHICCARD: Please note: the additional internal Nvidiacard is only availiable with "Student/Campus" models. Important: the Mini Display Port does work with Panorama Driver as well - Great!
TOUCHPAD/TRACKPOINT: Both working well with OS/2! Each can be deactivated using BIOS Settings.
ScreenShots