Lenovo ThinkPad Yoga 12 - 20DK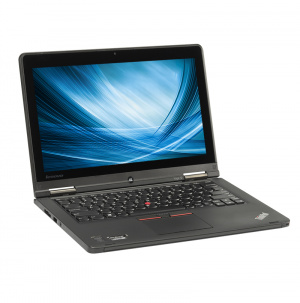 General Specs
Model Number: 20DK
Processor: Intel core i7-5600U CPU
Memory:8 GB
HDD:256GB SSD disk
Graphics:Full HD
Release Year: 2014/2015
Devices
| Component | Name | HardwareID | Status | Driver |
| --- | --- | --- | --- | --- |
| Processor | Intel core i7-5600U CPU | | | ACPI |
| HDD | Intel Wildcat Point-LP SATA Controller [AHCI Mode] | 8086:9C83 | | OS2AHCI |
| Audio | Intel Broadwell-U Audio Controller | 8086:160C | | UNIAUD |
| Audio | Intel Wildcat Point-LP High Definition Audio Controller | 8086:9CA0 | | |
| Video | Intel HD Graphics 5500 | 8086:1616 | | Panorama |
| Wireless Network | Intel Wireless 7265 | 8086:095B | | |
| Wireless Bluetooth | Intel Dual Band Wireless-AC 7265 802.11ac, 2 x 2 Wi-Fi and Bluetooth adapter | 8087:0A2A | | Not Supported |
| USB 2.0 | Intel Wildcat Point-LP USB EHCI Controller | 8086:9CA6 | | Lars' USB Drivers Version 232 |
| USB 3.0 | - | | | Not Supported |
| SD/MMC slot | Realtek RTS5227 PCI Express Card Reader | 10EC:5227 | | Not supported |
| Touch screen - USB | Synaptics Touch Digitizer V04 | 06CB:7244 | | USBECD, Pen and Touch for Thinkpad Yoga 12 Utility |
| WebCam - USB | CON51200X Integrated Camera | 1BCF:2C79 | | UVC Webcam Support |
| Sensor - USB | STMicroelectronics ST_SENSOR_HUB | 0483:91D1 | | Not supported |
| Digitizer Tablet/Pen - USB | Tablet ISD-V4 | 056A:00EC | | USBECD, XSMOUSE, , Pen and Touch for Thinkpad Yoga 12 Utility |
| UEFI boot | | | | Not Supported. Works with Legacy mode ON. |
General Comments
Sigurd tested this Thinkpad with ArcaOS 5.0.4. His comments are:
The usual settings in the BIOS (Secureboot off, Legacy Boot on, USB 3.0 Disabled).
The installation of the USB stick ran without significant problems, the SSD was completed wiped.
WINOS2 started after installation of the additional package (viop-1.0.wpi from the bugtracker) as desired.
Uniaud works with unimix. Check the trick below.
ArcaOS USB drivers needed to be replaced with those from Lars Erdmann, as ArcaOS's drivers do not support Isyncronus Data Transfer, wich is needed for Touch screen, Stylus and Webcam.
Audio
The Uniaud.sys driver works with the / A: 1 switch Unimix is also required and you need to the add the following on the Startup.cmd:
unimix -id1 -val74 -cnt0
unimix -id1 -val74 -cnt1
unimix -id2 -val1 -cnt0
unimix -id2 -val1 -cnt1
exit

Stylus Support / Digitizer Pen
Stylus is working thanks to Wim Brul's drivers. USBECD and XSMOUSE:
Single tap with the Stylus = Left Mouse Button click
Pressing the Button on the Stylus = Right Mouse Button click
Single tap with the stylus while pressing the Button on the Stylus = Left+Right Mouse Button click
Writing with the Stylus in Jarnal = no problem works like a charm.
Hardware Manager Report
Images
Links