Lexmark CS410dn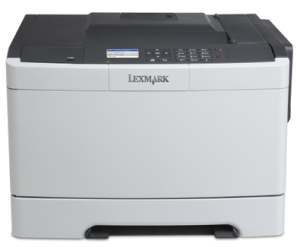 General Specs
Model Number: CS410dn
Connection Method: Network / SLPR
General Comments
This is a A4 laser color printer and works with the legacy driver of the Lexmark C750 pscript. It had been configured on OS/2 with the SLPR port including the IP address and host name of the printer.
Printing from programs like PMView, OpenOffice and DBExpert is working fine. There is a problem with lucide, it always print on two faces when you select postscript, and on one side if you select as an image. Lucide ignores what the driver tells him.
Review
Lexmark CS410dn is working in ArcaOS 5.0.1 using legacy IBM drivers for the C750.
This is a heavy duty (warning on the box: '2 person lift') 'network' printer, available from Amazon for 119 euros. I have it connected by a USB cable to the pc, and can't comment on its network features, USB port, RJ45 port for lan connection, and a slot for some kind of wifi to lan device (details not readily available). Also a second USB port for printing from a flash drive.
Documentation is mostly about setting up for a network connection. Turning it on brings up a small led screen (keyboard controls only) with a status/supplies section that shows how much toner is available, etc. and setup screens (4 pages of settings in the menu printout). It comes with a 250 sheet paper tray. Two other trays are available; one for 150 sheets and one for 500.
It is possible to add a larger memory card, and even a hard drive. Output at 1200 dpi (looks great when using Alex Taylor's EcoFont Vera Sans). So far, I have not figured out how to change the defaults and have to check the printer settings for each document to make sure that 1200 dpi is selected and that there are no 'forms mismatches' (between A4 and letter size paper). This is a small inconvenience for such an impressive and affordable piece of machinery.
Links