MSI A320M Pro-VD Plus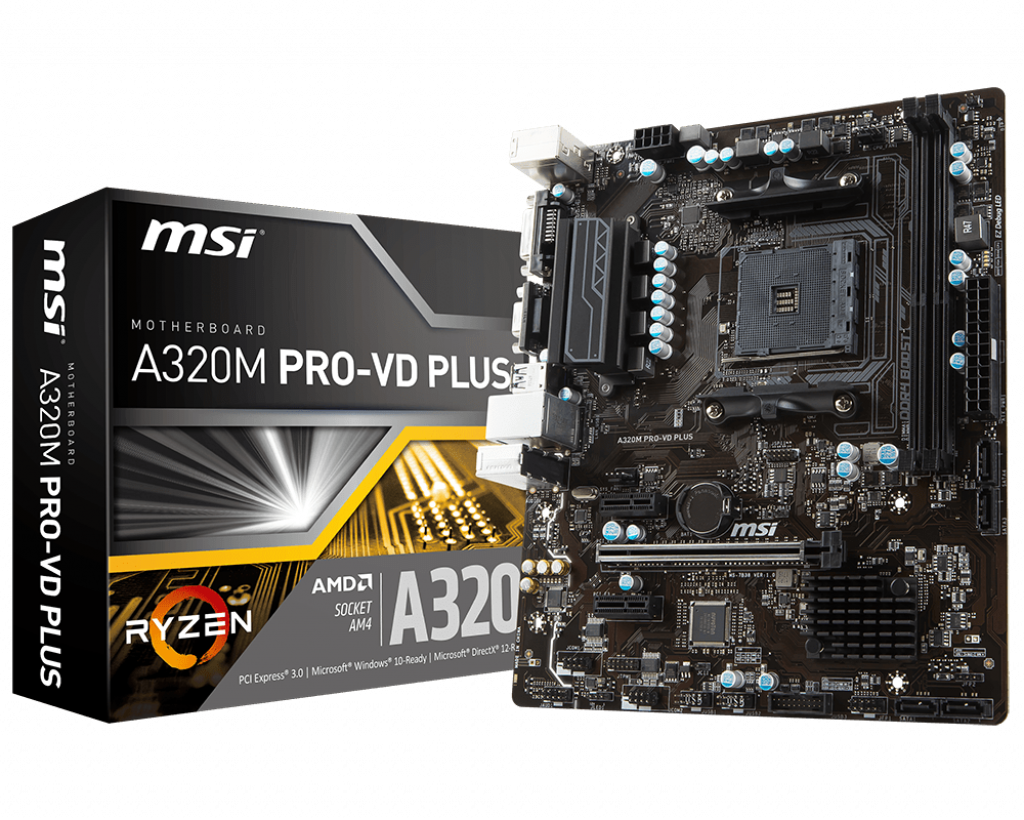 General Specs
Supports AMD Ryzen 1st and 2nd Generation
Support DDR4 1866/2133/2400/2667/2933(OC)/3200(OC) Mhz
Devices
| Component | Name | HardwareID | Status | Driver |
| --- | --- | --- | --- | --- |
| Processor | AMD Ryzen 5 first gen Processor | | | ACPI |
| SATA | AMD FCH SATA Controller [AHCI mode] | 1022:7901 | | Not tested. OS2AHCI |
| Audio | AMD Family 17h (Models 10h-1fh) HD Audio Controller | 1022:15E3 | | Not tested. UNIAUD |
| Network | Realtek RTL8111/8168/8411 PCI Express Gigabit Ethernet Controller | 10EC:8168 | | Not tested. |
| Video | AMD/ Vega [Radeon Vega 8 Mobile] | 1002:15DD | | Not tested. PANORAMA |
| USB 2.0 | VIA USB 2.0 | 1106:3104 | | Not working |
| USB 3.1 | AMD Raven USB 3.1 | 1022:15E0 | | Not supported |
| USB 3.1 | AMD Raven USB 3.1 | 1022:15E1 | | Not supported |
Review
Tested by Ivan. His testing conditions was:
MSI A320M Pro-VD Plus motherboard.
AMD Ryzen 5 first gen Processor
Saphire AMD Radeon Video card
2 x 4GB DDR4 memory sticks
1 x 1TB Seagate FireCuda SATA v3
Samsung S24E650 Monitor
Kensington Prp Fit MultiMedia USB Keyboard
Kensington Orbit Optical Trackball.

The USB 2.0 ports are not recognized, ArcaOS installer can boot but the USB mouse and keyboard can not operate.
A test was made to include a PCI USB 2.0 card slot, the card was recognized by the BIOS, but on ArcaOS the mouse and keyboard still do not work.
Links