Monster Media '94 - No. 1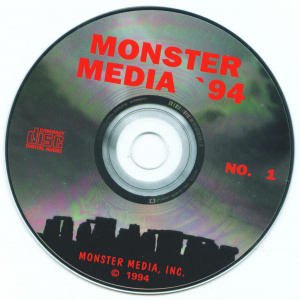 OS/2 Related Contents
File Name
Description
AC35MUSO.ZIP
Accu-Music System v3.5 <ASP> Create music on your computer. Use text-based editor to enter notes; transpose music to change key signatures or raise/lower music by half steps; play music on PC speaker.
ADAPTOR.ZIP
Automatic DAta Parallelism TranslatOR transforms data parallel programs written

in Fortran with array extensions, parallel loops and layout directives to parallel programs with explicit message passing.

AFE231.ZIP
Archive Front End v2.31. Visual front end for the creation, updating, unarchiving, virus scanning, viewing, printing and eleting of ZIP, LZH, ZOO and ARJ files.
ALRMP14G.ZIP
AlarmPro v1.4G. All purpose organizer w/calendar, autodialer, and other utilities.
ALTBT120.ZIP
Albatross v1.20 - Compact Disc player for OS/2.
ARCM20.ZIP
Archive Manager; multithreaded PM front end for PKZIP, InfoZIP 5.x, and LH.
BA2100A.ZIP
Back Again/2 (formerly Back & Forth) update w/32-bit, multithreading, HPFS & EA backup, more!
BAKINI.ZIP
REXX .cmd file that automatically backs up changed *.ini files each time the computer is started. Put in the startup folder.
BAR1.ZIP
BaR is a PM-based front end for OS/2's backup and restore text-based programs.
BJOS2.ZIP
BJC-600 drivers for OS/2.
BKUPWP14.ZIP
WPS-Backup v1.4. Backs up OS/2 Desktop, config.sys, sys.inis, startup.cmd, and tcpstart.cmd to multiple diskettes.
BLANK21.ZIP
Screen Blanker 2.1 32-bit screen saver for OS/2 2.1.
BMDEMO1D.ZIP
Backmaster 1.01 Demo: OS/2 backup tape demo.
BMPVIEW1.ZIP
VX-REXX BMP viewer for OS/2 using dialog Boxes. Very Easy to use!
BNAME211.ZIP
Uncloaked names for the XR06200b OS/2 service Pack.
BNF100.ZIP
Back & Forth personal backup software for OS/2 2.1 featuring 32-bit speed, compression, HPFS, EA, and multithreaded backup support
BOOTD2.ZIP
REXX pgm makes two disk floppy boot for 2.11. New support for CD-ROM and third party BASEDEV drivers, with options taken from your CONFIG.SYS file.
BOOTFL.ZIP
Creates a 3.5" bootable floppy for OS/2. With the new floppy, the user no longer has to use the 2-floppy technique (Installation Diskette, Diskette 1).
BOS2259B.ZIP
BinkleyTerm 2.59a beta for OS/2 includes second executable compiled with Microsoft Visual C and linked with Microsoft C 6.0 runtimes.
BOXOS26A.ZIP
Boxer v6.0a. Powerful, top-rated text editor! Already a favorite of DOS users, Full-featured editor with a smooth, courteous interface.
BW212OS2.ZIP
Bluewave offline reader v2.12. 32 bit, multithreaded, and QWK capabilities.
B_DIR.ZIP
DIR replacement w/ highlighting, dir sizing,etc.
CDPROB.ZIP
CD-ROM/Audio Questions and Answers. Commonly asked questions concerning CD-ROM devices and audio used with Multimedia Presentation Manager/2.
CDSP21.ZIP
OS/2 supported CD-ROM drives.
CDTHRU.ZIP
Small OS/2 utility that tests the throughput of a CD drive at various blocksizes.
CEDIT11.ZIP
CEdit v.1.1. Full-screen Norton Editor compatible text editor. Long filename support, edits files up to 50Mb, unlimited line length, unlimited number of lines.
CENV2_19.ZIP
CENVI v1.009 <ASP> Gives the OS/2

professional a complete C-like environment, including the standard library and kernel/DLL calls, in an easy-to- use form.

CFGS_11.ZIP
Describes how to considerably decrease

                              OS/2's boot-up time.


CHGW.ZIP
Change that window. CHGW.exe will toggle an

                              OS/2 text window between 24 and 53 line
                              mode. Great for those long dir listings.


CMDFLD13.ZIP
Adds an OS/2 box to folders groups.
CMDLINE1.ZIP
Powerful data input routine for OS/2's REXX.
CMDSHELL.ZIP
CMDShell v1.0. Set your command line based

                              applications up to prompt you for
                              paramaters before executing under PM.


COMINF.ZIP
Information on com ports under OS/2. Hints,

                              tips, supported configurations.


COMM21.ZIP
OS/2 2.1 COMM driver. Update and fixes.

                              Contains PCMCIA support...


CPOSTSRC.ZIP
Typset C programs in postscript for OS/2.
CRYPT1_0.ZIP
Crypt v1.0 - Create and solve cryptoquotes,

                              for OS 2.x.


CWIZ13.ZIP
ConfigWiz version 1.3; Notebook- style

                              editor/optimizer for OS/2 startup files.


DATERGF1.ZIP
REXX procedures for working with sorted

                              dates in OS/2.


DB02_SRC.ZIP
DiamondBase RDBMS for emx and BC /2

                              (source) for OS/2.


DCOPYPM9.ZIP
PM file manager, with configurable pop-up

                              menus.


DCPY20.ZIP
Dcopy - powerful diskette copying utility.

                              Mutithreading. Allows diskettes to be
                              copied directly to each other, and to be
                              copied to image files on a hard disk.


DESY110.ZIP
4OS/2 file description editor.
DES_OS2.ZIP
DES is an encrypting algorithm.

                              Encrypt/decrypt your files.


DEVCON3.ZIP
Text file(s) describing the Developers

                              connection CD ROM contents.


DMINE121.ZIP
DMine v1.2.1. 32-Bit MineSweeper. Scalable

                              grid squares, new features: 20x20 grid
                              bitmaps created so 1024x768 users won't see
                              distortion.


DMPLY101.ZIP
OS/2 MOD player for MMPM/2 v1.01.
DOC211.ZIP
Documentation and readme updates for CSD

                              XR06200.


DOCSBOOT.ZIP
Replacement for OS/2's bootmanager.
DUDF12.ZIP
32 bit du and df (unix disk commands)

                              ported to OS/2 version 1.11.


DW11.ZIP
Disk Watch v1.1. Sounds an alarm if the

                             amount of available disk space is reduced
                             below a specified minimum.


EMACSINF.ZIP
GNU Emacs 19 manuals, INF format.
EMXFIX04.ZIP
Fix package for emx 0.8h. It contains all

                              fixes of emxfix01.zip, emxfix02.zip, and
                              emxfix03.zip, and new fixes. Moreover, it
                              adds some new features.


ENTRTAN2.ZIP
Entertainment Pack for OS/2 v2 includes six

                              games.


EPMGCC10.ZIP
EMX/GCC interface to EPM 5.1.
FACESOS2.ZIP
Allows emacs 19.x (should work with 19.19

                              and higher) to recognize bold and italic
                              fonts automatically, when the font name is
                              given in OS/2 naming format.


FAQ21E.ZIP
Tim Sipples OS/2 FAQ. Release 4-4-1994
FB_17B.ZIP
FileBar v1.7b - OS/2 Application Launch

                              Facility and WPS replacement package allows
                              program launching, task jumping and shut
                              down.


FC2_102.ZIP
FileCommander v1.02. Norton Commander Clone

                             supports treemode and 3 HPFS filename view
                             modes, 25 and 50 line screen mode, internal
                             and external editor.


FDTN_02.ZIP
Using OS/2 2.1 GA with FrontDoor 2.02 and

                             above (and RemoteAccess).


FILEB_18.ZIP
FileBar v1.8. Menubar utility launches OS/2

                             applications and switches tasks.


FIXKEY.ZIP
Designed to fix OS/2's very annoying

                             problem of not recognizing certain keys on
                            some 101 keyboards.


FLC102US.ZIP
Floppy-Copy a 32-bit PM diskcopy w/ various

                             features for OS/2.


FLEETB85.ZIP
FleetStreet v0.85wb. Flexible and powerful

                             message reader for Squish & .MSG areas,
                              multithreaded, 32 bit, drag'n'drop. English
                              & German version.


FLST120.ZIP
FastLiST for OS/2: Fast, flexible and

                              powerful version 7 nodelist compiler.


FM2_136.ZIP
FM/2 v.1.36 - PM based file manager - a

                              "Super Drives Object" file manager with
                              additional features, done by the author of
                              AV, can handle archives as well.


FMCRDS.ZIP
Solitaire Pack for OS/2 - seven solitaire

                              card games.


FONTFOLD.ZIP
OS/2 2.1 ATM Font Manager v1.01a. Organize

                              your ATM fonts and preview, install and
                              remove OS/2 fonts with simple point and
                              click operations.


FP2DEMO.ZIP
Footprint v2.0 Demo - Tracks I/O usage of

                             OS/2 applications.


FSP2_10.ZIP
File Transfer Protocol v1.0. TCP/IP dependent network data transfer protocol.
FTPOS194.ZIP
Listing of all OS/2 files on the anonymous

                              ftp site ftp-os2.cdrom.com.


GALCIV65.ZIP
Screen shots from the upcoming OS/2 game, Galactic Civilization.
GAMEOS22.ZIP
List of settings for OS/2 for DOS Based games.
GNUCHESS.ZIP
GNU Chess v. 4.0-pl65. (Heuristic?) Chess program. Now with mouse support.
GPHER161.ZIP
Gopher v1.61 - Internet Gopher utility for OS/2, requires OS/2 TCP/IP v1.2.1.
GRX01B.ZIP
GraphX is a data plotting utility, to

                             produce scattergrams or histograms with the
                             possibility to choose between point styles,
                             line styles, etc.


GUSOS201.ZIP
An installable MMPM for OS/2.
GZT0194.ZIP
Midwestern OS/2 newsletter (Winter 94) postscript.
HAZ12.ZIP
Hazel v1.2. Address Book/Dialer for OS/2 Presentation Manager.
HELRES12.ZIP
Heli rescue v1.2 by K-Soft. Native OS/2 multilevel arcade game. You fly a

                              helicopter and your mission is to rescue
                              all hostages and return to the base.


HHGOS2_1.ZIP
The Hitchhikers Guide to OS/2 #1.
HHGOS2_2.ZIP
Hitchikers Guide to the OS/2 v2.
HHGOS2_4.ZIP
The Hitchhiker's Guide to OS/2; an INF file

                              of trivia and news.


HOPALONG.ZIP
Hopalong release 1.0. Module designed for

                              the OS/2 screen saver "ScreenSaver".


HPDJET.ZIP
OS/2 HP DeskJet Printer Driver version 13.409.
HPFSDFRG.ZIP
Defragment files on an OS/2 HPFS drive.
HUMANEKO.ZIP
Human Neko for OS/2. Instead of a cat

                             chasing your mouse, this displays a small
                             human chasing the mouse.


ICBM101.ZIP
ICBM OS/2 Boot-up Manager v1.01. Fully

                              configurable. Can specify non-default
                             COMMAND interpreter and parameters to same.
                             ie. 4OS2, etc.


ICFOS2.ZIP
Inventory Capture Facility v1.7. System

                              inventory program reports on programs
                              installed, network data, memory, cmos,
                              other system information and what
                              microchannel boards are installed.


ILGDM120.ZIP
DirMaster v1.20. Directory manager. 2 dir

                              windows (enhanced listboxes) move - copy,
                              move, clone, delete, -Qui makedir, rename,
                              more.


INIHLP.ZIP
IniMaint and SysMaint Help - text file.
INIMT30K.ZIP
Ini File Maintenance v.3.0k. PM based

                              utility that will display, maintain, copy
                              or move all OS/2 and user INI files.


INSINF.ZIP
80 page ASCII TEXT file from the 800# that

                              contains information on a variety of
                              Install Problems for OS/2 2.x.


ISPELL40.ZIP
Port to OS/2 1.x-2.x of GNU ISpell v4.0.
JOVW122B.ZIP
JoeView v.1.22b - Image viewer with print,

                              clipboard & slideshow capabilities -
                              supports: TARGA, PBM, Sun Raster, PCX,
                              JPEG, GIF, X11 BMP, TIFF, OS/2 BMP and
                              WIndows BMP.


KED207.ZIP
KEd v.2.07. Character mode editor - 32 Bit

                              - HPFS Support - Macros - Unlimited number
                              of files - huge file sizes - cut and paste
                              - extensive online hypertext help.


KLZIP015.ZIP
OS/2 PM Front End for ZIP and UNZIP public

                              domain archiver utility.


KMP11.ZIP
Keymaster Pro hotkey utility v1.1 for OS/2.
KUVERT20.ZIP
Kuvert/2 2.0 util to print address labels

                              and envelops for OS/2.


LANAD12.ZIP
PM utility to execute server commands.

                              Needs VROBJ.DLL (not included).


LB04.ZIP
Liberty BASIC for OS/2 v0.4 beta. Ported

                              from Windows version. Create your own OS/2
                              GUI programs easily with graphics,
                              dialog-boxes, more.


LGOPHR10.ZIP
LA Gopher v1.00beta940325. 32-bit

                              multi-threaded Gopher Client for IBM TCP/IP
                              v1.2.1 or later and OS/2 2.1 or later.


LIST1_20.ZIP
A text file viewer with long filename support and regular expression text search.
LIVENET.ZIP
Configuration and REXX .CMD files from

                            LiveNet OS/2 BBS. Examples for running
                             Maximus and BinkleyTerm under OS/2, or
                            converting to REXX.


LJET.ZIP
HP LaserJetPrinter Driver v1.3.410.
LNVREM.ZIP
Remote Program Launch v2.0. Launches OS/2

                              or Windows applications from LAN NetView
                              managing stations.


LOGENH11.ZIP
LOGIN, PASSWD, and CNVTUNIX: A Suite of

                              programs to secure and enhance OS/2 2.x
                              TCP/IP TelnetD.


LTIMES32.ZIP
LA Times v3.2. 32-bit multi-threaded PM app

                              for reading NNTP news via Internet.
                              Requires IBM TCP/IP V1.2.1 or later and
                              access to an NNTP news server.


MAN11A.ZIP
This is a replacement for Un*x man(1),

                              apropos(1), whatis(1), and manpath(1).


MB211.ZIP
REXX program to create a boot diskette for

                              OS/2 2.11. Creates 3.5: HD diskettes only.
                              Requires OS/2 2.1 installed.


MEM211.ZIP
Replacement DLL for 20MEMU that will allow

                              it to work under OS/2 2.11 SP. Both
                              packages are REQUIRED, and 20MEMU must be
                              install FIRST.


MEMSZ230.ZIP
MemSize v2.30. Monitor your system memory,

                              swap file, free disk space and current
                              system load.


MLABV2.ZIP
MidiLab/2 is a MIDI Sequencer and Editor

                              for the OS/2 environment.  This new version
                              requires that the OS/2 MMPM/2 is installed.


MN0194.ZIP
MNOS2 Threads Jan '94 Newsletter - IPF

                              Versio Viewable online in OS/2 with the
                              VIEW command Produced for MNOS2.


MOD.ZIP
Digital Music Player - MOD player. Fully

                              exploits MMPM/2 and will work on any MMPM/2
                              supported device. Supports drag/drop of
                              .mod files.


MOUINF.ZIP
Tips and Information on various mouse and

                              pointer devices under OS/2.


MOUSIZE.CMD
REXX Cmd file to change the size of the

                              mouse cursor or force the system to select
                              size.


MR2THSRS.ZIP
MR/2 Thesaurus Word Database v1.0. Unpack

                              the file MR2THSRS.BIN into your MR/2
                              directory to enable the thesaurus built
                              into MR/2's internal editor.


MR2_200.ZIP
MR/2 v.2.00 - QWK compatible mail reader.

                              Menu/picklist driven, mouse support, thread
                              summary, multithreaded searching, address
                              book, internal editor, speller.


MSGMRG.ZIP
Message Manager - Maintain CompuServe

                              message archives. Merges multiple message
                              files together while removing duplicates.


MWAVE2.ZIP
Wavemaker for OS/2 and DOS. Generates sine,

                              pulse and triangle waves and writes it in a
                              file.


NEXTBAR.ZIP
How to create a desktop with a NeXT-like file bar.
NGVPM10.ZIP
The Norton Guide Viewer v1.0. The fastest .NG viewer for PM. Includes color, underline, bold, searching, copy to clipboard, toolbar, printing, and more!
NLIVE121.ZIP
9 Lives v1.21. Desktop expander. Makes many "virtual desktops" available to the user, instead of the standard one, reducing window clutter.
NLMERGE.ZIP
Merges nodediff into nodelist each week (os/2 native).
O2ACEBB1.ZIP
How to Configure OS/2 to run optimally with your BBS with limited system resources. Includes an almost complete walkthru of 4DOS/4OS2 setups for use with the shareware PMSHELL replacement Mshell. Lots of Tips and Helps!!
OAKOS2.ZIP
OS/2 Drivers For The Oak SVGA Cards. Self Extracting to Diskette.
OBACK203.ZIP
OBACKUP and ORESTORE back up and restore data from/to hard disks and floppies. Optional compression.
OCLN113.ZIP
McAfee's Clean for OS/2.
OS2256.BMP
256 color wallpaper.
OS2APP.ZIP
Listing of OS/2 applications.
OS2CFG8.ZIP
Updated OS/2 Config File Description.
OS2FAQE.ZIP
OS/2 Frequently Asked Questions List by Timothy Sipples.
OS2GFC.ZIP
Graphical file comparison program. Compares

                              2 files on disk and notes lines that are
                              common to both. A bar chart is drawn giving
                              overall view of which lines match, text of
                              either file, or composite.


OS2TS12.ZIP
ET4000/w32 video drivers for the Hercules

                              Dynamite video card. Fixes problems with
                              the OS/2 2.11 CSD.


OS2UG.ZIP
Listing of OS/2 Users Groups.
OS2V1.ZIP
First issue of an electronic pub for OS/2 users and prospective users.in.
OS2V12.ZIP
OS/2 2.1 Mach 8 and Mach 32 ATI Video Drivers Direct from ATI BBS v1.2.
OS2W32.ZIP
Tseng Labs ET4000/W32, ET4000/W32i and ET4000/W32p display driver.
OS2WORLD.ZIP
OS/2 BBS's Across the World List March 1994. Includes TE/2 dialing directories.
OS2_INTR.ZIP
OS/2 New User Introduction (Revised 27 Feb

                              94).


OSCR200A.ZIP
VirusScan for OS/2 version 2.00 4/1/94 virus data files by McAfee, Inc. Scans and cleans PC's/LAN's for known and new viruses. Requires OS/2 2.0GA or above.
OTHELL10.ZIP
Othello v1.0. 32-bit, multi-threaded implementation of Reversi which plays substantially stronger than the version of Reversi shipped with OS/2.
P1MMAPR1.ZIP
Collection of APARs for OS/2 related products in .INF format. MMPM/2.
P1NWAPR1.ZIP
APAR list for Novell's Netware Requester

                              for OS/2. Lists recorded APARS along with
                              the action/solution to the problems for
                              Netware LAN requester for OS/2.


P1TCAPR1.ZIP
Collection of APARs for OS/2 related products. TCP/IP.
P1TKAPR1.ZIP
Collection of APARs for OS/2 related products. OS/2 Toolkit, Workframe/2, C Set/2, C Set.
PCD15.ZIP
Shows Photo-CD's in a fullscreen session. DOS/OS2.
PCL3.ZIP
OS/2 IBM PCL3 Printer Driver v1.108.
PCONF180.ZIP
Phantom-Tele-Conference-System v1.72.
PEG110.ZIP
Pegasus Resourse Monitor 1.1 for OS/2 PM New integer engine added.
PFAQ30.ZIP
OS/2 Programming FAQ, version 3.0.
PLUMA101.ZIP
Pluma Word Processor v.1.01. What You See Is What You Get word processor - ability to handle imbedded graphics - installed ATM fonts are supported.
PMCC11.ZIP
PM Control Center v1.1. Two user definable button bars, program launching and file maintenance package.
PMD21ED.ZIP
Pm Diskcopy v2.1d. Copy floppy disks and create image files.
PMDIFF27.ZIP
PMDiff v2.7. Side-by-side graphical file comparison - fully integrated with OS/2's Workplace Shell - To compare files, simply drag and drop them onto the PMdiff object, or onto the running application.
PMJPG163.ZIP
PMJPEG v1.63 - multiformat graphics file viewer and converter.
PMMPEG.ZIP
OS/2 Presentation Manager MPEG movie player package.
PMP212.ZIP
PM Patrol v2.12. Performance and resource

                               monitoring tool. Data sampled is capable of
                               being recorded to the OS/2 clipboard.


PMST11.ZIP
PMStock v1.1. Download quotes automatically

                               from Prodigy, collect data, symbol by
                               symbol, chart stocks with moving averages
                               and print.


PMSYSLV.ZIP
PMSysLvl provides a Presentation Manager

                               interface to the IBM OS/2 SysLevel command.
                               By displaying the data in a notebook
                               format, the data is easier to use.


PMVD025.ZIP
PMVDesk virtual desktop screen manager.
PMVU86B.ZIP
PM View version 0.86b. Many great updates

                               since v0.86.


PMXEYES.ZIP
PMxEyes, a PM Program displaying eyes

                               following your mousepointer everywhere.


POLYLINE.ZIP
Polyline v1.0. Module designed for the OS/2

                               screen saver "ScreenSaver".


PRNFIX.TXT
OS/2 Printer Fix/Update listing (ASCII

                               text) v2.11. ASCII text file listing the
                               history of fixes and changes to all the
                               OS/2 printer driver packages.


PRNMAP.TXT
OS/2 Printer Fix/Update listing (ASCII

                               text) v2.11. Lists many plotter/printer
                               models and tells you what OS/2 printer
                               driver to install under OS/2 to use them.


PROB211.ZIP
Problems with the OS/2 2.11 Service Pack

                               w/solutions.


PTDEM3.ZIP
Pegasus Tools Monitor v1.1. DEMO. Features

                               working post processing.


QVDM102.ZIP
Query/save/load os/2 vdm settings to/fr

                               file.


RCOPY.ZIP
RCopy v1.2. An extension of the OS/2 Copy

                               command. In addition to the parameter
                               controlled functions, it will displays
                               progress messages, prompt to continue if
                               the file already exists, and copy files to
                               multiple disks.


RDX200.ZIP
REXX command-line directory changer.

Optional wildcards, search multiple drives and lookup table for frequently-used directories.

REXXDATE.ZIP
DLL with date functions for REXX.

Difference in days, is it leap year.

ROIDS20.ZIP
ROIDS 2.0 PM Asteroid Game.
RXBAS120.ZIP
RexxBase - External OS/2 DLL allows REXX

programs to process dBase files. Contains several REXX API to process up to 10 dBase files at a time.

RXMULCH.ZIP
RxMulch is a simple REXX-program which allows for counting the occurrences of a string in a file and for replacing strings in a file.
SEAHAVEN.ZIP
Seahaven Towers. Solitaire card game for OS/2.
SEAMWIN4.ZIP
WIN-OS/2 utility. Speeds up starting seamless Win/OS2 sessions by being active all the time without using any resources or polling the keyboard.
SETWIN.ZIP
SetWin v1.1. Move and size windowed OS/2 command prompts from either the command line or from within batch files.
SHTDWN01.ZIP
PM Shutdown is a small 32-Bit application to pop up a dialog box to ask whether you want to perform a shutdown. With source.
SOMBRS.ZIP
SOM class browser prototype.
SORT32B.ZIP
OS/2 2.1 Fast virtual sort. Sorts up to 16 fields at one time. Limit of 999,999 records. Text files Only.
SOUNDC.ZIP
This document gives an overview of the sound cards with OS/2 support. It also defines some common OS/2-related multimedia terms.
SSAV11M.ZIP
Screen saver module for Screen Saver 1.1 for OS/2.
SSAVER2X.ZIP
Screen Saver! Includes modules and sample code for writing your own mods!
TCPSTART.ZIP
Guide to getting started with OS/2 networking using IBM's TCP/IP software
TE2_130T.ZIP
TE/2 Test Drive v1.30. Full-featured communications program.
TEAM05.ZIP
Team OS/2 member list as of March 25, 1994
TEAMLOG2.ZIP
TeamOS/2 logo. In various formats. Postscript, PCX, BPM (Bitmap!), etc.
TEST80.ZIP
Working Example of RxQueue & InterProg Comm. (REXX)
TEXPRT14.ZIP
A text mode shell for emTeX for OS/2.
TNEW04.ZIP
TeamOS/2 Newsletter. Feb/94. OS/2 INF format. Use the OS/2 VIEW facility.
TNEW05.ZIP
Team OS/2 Newsletter (INF Format), March/April 1994
TRICKS3.ZIP
Jan/94 version of "Stupid OS/2 Tricks", very useful.
TRSHCN13.ZIP
Trashcan for OS/2 Desktop works better than the shredder.
TSHELL05.ZIP
Tshell, text based protected mode OS/2 shell. It does not initialize the

Presentation Manager; only OS/2 text, DOS and Windows sessions will WORK.

TWCP132.ZIP
TWCP v1.32. Text Windows Cut & Paste with mouse like X-Window - option to eliminate last return - works also with entry fields.
UG800INF.ZIP
This is a USER GUIDE for people that call the 800# Support Center. Contains useful information for anyone who calls the 800#.
UNDEL102.ZIP
UndelPM v1.02. OS/2 Undelete replacement.
UNZ51X2.ZIP
32 bit freeware Unzip v5.1 by Info-Zip. Supports PKZip 2.0 format.
UNZIP10S.ZIP
UnZip Shell v1.0s. PM front end for ZIP files. Uses UNZIP.EXE for compatibility with ZIP files created with PKZIP (as of v2.04) and other Zip utilities.
V7NL.ZIP
32-bit dynamic link library provides an API to access a Fidonet version 7 nodelist.
VASPBTA1.ZIP
Adaptec Virtual ASPI Driver Beta #1. VASPI driver for DOS and Windows sessions within OS/2.
VDMS_110.ZIP
VDM Server Utility v1.10. Gives a detached (background) process the ability to execute a DOS command in a DOS (VDM) Session.
WCAT11.ZIP
WatchCat v1.1. Makes it possible to recover from system hangs that block keyboard and mouse input.
WILLUTIL.ZIP
Customize many characteristics of OS/2, including controlling the numlock key, window scrolling, system beeps, menu operation, etc.
WINSPO.ZIP
WinSpool v0.5b OS/2 Print Spooler. Solves printing conflicts. Dramatically improves printing/plotting speed. Lets DOS programs use Print Manager. Works on: Networks, 3.1, NT, WFW, OS/2 Requires VBRUN300.DLL
WOR_11.ZIP
Wizard of Wor clone. Requires the "Game Interface" already installed.
WPSBK204.ZIP
Workplace Shell Backup v2.04. Backs up .INI files and WPS for easy recovery.
WUZ11A.ZIP
Workplace Shell UnZip v1.1A. Handles ARC, ARJ, LZH, TAR, Z and ZOO files.
YAOS07.ZIP
YAOS (Yet Another OS/2 Shell) v0.7 - file name completion, history of previously used commands, ability to change directory to any [drive:\directory], aliases.
YRN2_060.ZIP
YARN v0.60 - SOUP compatible offline mail reader with database for Internet and UseNet offline mail handling.
ZIPME11.ZIP
ZipMe v1.1. Manage ZIP files, supports InfoZip for OS/2.
ZOC121.ZIP
OS/2 PM Terminal program. Adds a sort of host mode.
ZPARS102.ZIP
Zparse 32bit Version7 Nodelist Compiler. Designed to work with BinkleyTerm 2.50. Fast and Highly Configurable. Gamma 1 Release.
Links