OS/2 Warp 4: "Best on the Planet"
Jump to navigation
Jump to search
Reprint Courtesy of International Business Machines Corporation, © International Business Machines Corporation
By: Edward Duhé, Rene Garcia, Kathy Hutchinson and Tony White.
OS/2 Warp 4 is the most technically advanced, complete, open, personal computer operating system on the planet. This article provides an overview of all OS/2 Warp 4's new features, which are discussed in detail in this issue's Technical section.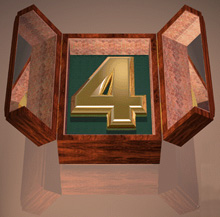 The next generation of OS/2 Warp is here! Sporting a terrific new desktop, it comes loaded with universal connectivity that lets you connect to any server operating system, even mainframes. It has a built-in Web browser, object-oriented technology, Java native support, systems management capabilities, security controls, and APIs. And, it comes with the most powerful voice dictation engine and desktop voice navigation system on the market; you can now navigate the Internet, dictate notes, and execute commands -- all with your voice.
Let's take a tour through OS/2 Warp 4.
Like a good wine that gets better with age, so does OS/2 Warp. The newest version, OS/2 Warp 4, is better, simpler, and much easier to use than before. Enhancements begin with its installation.
Integrated Installation
OS/2 Warp 4's installation process is similar to the one in OS/2 Warp Server. Installation procedures are easy to follow and understand and are available in two methods: Easy Install and Advanced Install. You can use either method from a CD or from the network. Both install OS/2 Warp 4 on computers running any version of DOS, or DOS plus Windows 3.1, Windows 3.11, Windows for Workgroups 3.1, or Windows for Workgroups 3.11. OS/2 Warp 4 will also install on systems with OS/2 2.1 with WIN-OS/2, OS/2 2.1 for Windows, OS/2 Warp Connect 3.0, and any intermediate releases.
Easy Install is simple to follow. You may need to supply some information (such as information about your service provider if you want to connect to the Internet), but that's all! OS/2 Warp 4 then installs onto your C: drive. Easy Install detects your hardware and makes decisions based upon your processor speed, available memory, and file system.
Use the Advanced Install method if you want to control the way OS/2 Warp 4 is installed. For instance, Advanced Install lets you specify the installation drive, partitions, system components, and network components. You will have to furnish details to the Advanced Install process.
Regardless of the installation method you choose, you can install OS/2 Warp 4 onto your computer through a network, parallel port, or infrared port, eliminating the need to have a CD drive available on the client machine.
Workplace Shell
In OS/2 Warp 4, the Workplace Shell takes another stride in maturity. In addition to being highly functional and intuitive, it is now more visually appealing. New object controls, 3-D icons, and intelligent helps called WarpGuides further enhance its user interface.
Highlights of the new Workplace Shell are given below. For more details about the Workplace Shell enhancements, see "The New Workplace Shell in OS/2 Warp 4" in this issue.
New Look and Feel
In OS/2 Warp 4, the desktop (shown in Figure 1) is rearranged to reduce clutter and is more visually appealing through the following enhancements:
Figure 1. OS/2 Warp 4 Workplace Shell Desktop
New background bitmaps have texture and color schemes.
Visuals use more colors and give you a 3-D experience, using texture, shadowing, and curved edges.
A new condensed font style uses less space on the desktop while improving legibility.
File Open and Close dialogs provide tree views of directories and allow selection of file type.
Notebook settings now have a horizontal tab option, which enables more concise presentation of information in less space.
A Close button lets you close an application with a single click.
Common operations within a folder are now accessible with menu bars. The context menu (accessible by clicking mouse button 2) can be used for these operations.
Integrated into OS/2 Warp 4 is the latest IBM VoiceType speech navigation and dictation technology. VoiceType technology is the result of almost 25 years of IBM research. In OS/2 Warp 4, it brings the ease-of-use concept to a whole new level. VoiceType's user interface is one that everyone is "talking" about!
The VoiceType speech recognition engine in OS/2 Warp 4 has two primary capabilities: navigation and dictation.
Voice navigation lets you navigate most OS/2 Warp and Windows applications by simply talking to your computer. For example, you can open the OS/2 System folder by saying "Jump to OS/2 system," or you can access the IBM home page on the World-Wide Web by telling your computer "Jump to IBM home page." How can it get any easier? OS/2 Warp 4 comes with a navigation vocabulary with common desktop navigation words and a macro capability to simplify repetitive tasks. And, with voice navigation, you use normal continuous speech, as though you are speaking to another person.
Voice dictation lets you dictate text, then paste it into (for example) word processing and e-mail applications. With this technology, you can dictate directly into an editable document rather than dictating into a tape recorder, then transcribing. A base dictation vocabulary of 22,000 words, expandable to 42,000, is provided. Also available are vocabularies for professions such as healthcare and law.
OS/2 Warp 4 provides this incredible voice interface to your computer without requiring special hardware other than a Pentium processor plus a supported sound card and microphone.
Internet-Aware Desktop
OS/2 Warp 4 includes new desktop objects for FTP, URL, and HTML. (See Figure 2.)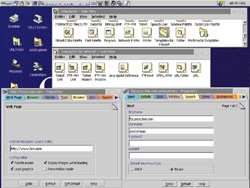 Figure 2. URL and FTP Objects
The FTP object provides a folder view of an FTP directory. It lets you access and use a remote FTP site the same way you work with local folders, including transferring files by dragging and dropping them between the FTP site and your local computer.
The URL object lets you save your favorite Web sites as objects in your system. When you are ready to go to one of those sites, just double-click on the object, and OS/2 Warp 4 automatically launches its integrated browser and brings up the Web page. If the browser is already running, simply drag the URL object and drop it on the browser window to connect to the site. Surfing made easy!
The HTML object lets you easily create HTML files. By dragging and dropping this template, you create a basic HTML file that you can edit using the OS/2 System Editor. See "The Internet-Enabled Desktop in OS/2 Warp 4" in this issue's Technical section for a detailed description of this capability.
WarpCenter
OS/2's WarpCenter is a customizable, object-based status bar where you can store and launch frequently-used applications. WarpCenter displays a narrow bar across the top of your desktop, as shown in Figure 1. You can also configure it to appear at the bottom of your desktop.
With WarpCenter, you can use cascading menus to explore the desktop and other folders rather than opening each folder one by one. You can also display a menu of all running applications by simply clicking mouse button 1 on the cascading window icon in WarpCenter. WarpCenter includes the Find Objects facility that was in OS/2 Warp 3.0, plus a "tray" to which you can drag and drop any object (such as the OS/2 Window command prompt) for easy access.
WarpCenter also lets you toggle among time/date/timers, and monitors of battery usage, system activity, and available disk space. You can also choose whether or not to have the confirmation message appear when you lock up or shut down your OS/2 Warp 4 system.
WarpCenter can remain visible at the top of your maximized applications, or you can make it appear only when you move your mouse cursor over the area where it normally displays. And moving the mouse across the icons/objects in WarpCenter displays bubble help for each.
Now called the Toolbar, the Launchpad from OS/2 Warp 3.0 is available in the OS/2 System folder.
WarpGuide
WarpGuide is a mentor. Using cue cards, it tells and shows you how to complete a task (see Figure 3). Some objects in the WarpGuide folder have cue cards to assist you with each step of the task. Others actually complete the task as you click your mouse on the screen.
Figure 3. WarpGuide Folder and Cue Card
Any time you open an object (i.e., start a task) that WarpGuide knows about, a WarpGuide button appears on the title bar of that task's window. To ask for help from WarpGuide, simply click on that button.
The first time you use WarpGuide, it asks you to check in by indicating your experience level with computers and with OS/2 Warp. WarpGuide saves your response and uses it to tailor the information it gives you:
If you indicate you are a novice for the current task, WarpGuide automatically shows you cue cards, and it shades unneeded parts of the window. The shading does not change the way a window works; you can still click on the areas under the shading.
If your skill level is intermediate, WarpGuide shows only cue cards.
If you are an expert, cue cards are not shown, but you can access a cue card for the current task by clicking on the WarpGuide button.
You can turn cue cards on or off, either temporarily or permanently.
Assistance Center
All online documentation is located in the Assistance Center folder, shown in Figure 4. This folder, located on your desktop, contains documentation for both OS/2 Warp and any networking components you install as part of OS/2 Warp. The Assistance Center folder also contains references to other information sources such as WarpGuide and the OS/2 Warp Tutorial.

Figure 4. Assistance Center Folder
Users accustomed to previous versions of OS/2 will find the familiar Help Index, Glossary, and Readme files in the Information folder within the Assistance Center folder. The Information folder is the primary reference for "how-to" questions.
System Tutorial
OS/2 Warp 4's tutorial (see Figure 5) is designed to help users get up to speed quickly. It has an improved user interface and makes use of new OS/2 features. The OS/2 Warp 4 tutorial has four sections:
OS/2 Basics shows you how to perform basic OS/2 Warp 4 operations, run programs, customize your system, create new objects, and use multimedia objects.
Connect introduces you to networking basics, file transfer, World-Wide Web connections, the File and Print Client, and Mobile Office Services.
VoiceType shows you the basics of setting up and navigating with VoiceType.
Help explains all the help facilities in OS/2 Warp, such as Readme files, F1 help, the Help Index, WarpGuide, and online books.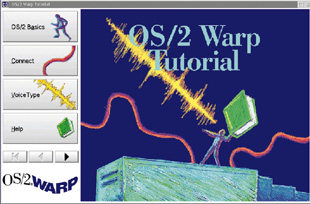 Figure 5. OS/2 Warp Tutorial
Within any of these sections, you can practice the function you are learning, see notes and tips for additional information, and look at an index of topics in the current section.
Migration Database
In previous versions of OS/2, at installation time you had the option to either add or migrate existing programs to your desktop. None of this has changed in OS/2 Warp 4; however, in OS/2 Warp 4, the migration database, which contains the optimal settings for the most popular DOS and Windows programs, now includes more than 500 programs.
Performance
OS/2 Warp 4 contains several performance enhancements:
Async Read-Ahead -- This file-system enhancement studies disk-read patterns, anticipates a disk read, and makes its contents available in memory before the read is requested. This reduces the amount of time that programs must wait for data before processing it.
While async read-ahead is not new in OS/2 Warp 4, improvements were made to the algorithm that determines how far ahead to read. The file system predicts the need for data by observing data access patterns. When it appears that additional data will be requested, the file system initiates a read to start the data moving in the background (in a separate thread) while the application is still processing previous data. The read-ahead algorithm now looks for different patterns of access, and it attempts to keep more data in memory by queuing up more and larger reads.
Async read-ahead provides two benefits: increased throughput (confirmed by Winbench and other benchmarks), and reduced processor overhead required to obtain a level of throughput -- other computing tasks can proceed in parallel, with less interference from the file system's use of processor resources.
Page Tuning -- Frequently-used functions are grouped together so they can be loaded with the fewest I/O operations.
In OS/2 Warp 4, additional page tuning has been done for Presentation Manager DLLs, speech, and multimedia. The effect of these page tuning enhancements is a reduction in overall memory requirements for various scenarios. That is, with a given memory configuration, you should be able to do more things before paging activity slows down processing.
High-Performance File System (HPFS) -- HPFS has been updated to permit multiple lazywrites. This enhancement optimizes cache handling by allowing multiple lazywrites to systems that have multiple physical disk drives.
Crash Protection -- Crash Protection implies that applications are isolated so that errant programs cannot corrupt and overwrite memory of other, well-behaved programs.
In OS/2 Warp 4, crash protection has been improved in the way it processes focus changes. Focus refers to the window or program that is situated on top of all other windows or programs and is currently receiving mouse and keyboard input.
You can implement this improvement by using the "User interface" tab in the System object (found in the System Setup folder within the OS/2 System folder). Select "Asynchronous focus change" to tell your OS/2 Warp 4 system to remove the focus from a window that fails to respond in a timely manner to a request to change focus. (If you do not select "Asynchronous focus change," then an application may cause your system to wait indefinitely for a response to a focus-change request.) Also, specify the time limit for an application to respond to focus-change requests by entering a number (in tenths of a second) into the "Focus change sensitivity" field. If the application fails to respond within the specified time, the focus change proceeds.
Disk Cache -- For OS/2 Warp 4 systems with a system partition formatted as File Allocation Table (FAT) and with at least 32 MB of RAM, the default disk cache size has been changed to five percent of the installed memory. If the OS/2 Warp 4 installation program does not detect any FAT partitions in your system, it does not allocate a FAT cache. This saves memory in all-HPFS configurations.
Connectivity
In this era of network connectivity, you need a strong network client. OS/2 Warp 4 is the strongest network client available, with extensive, integrated connectivity features.
A single requester accesses OS/2 Warp Server and other compatible networks. This requester combines the previously separate IBM LAN Requester and Peer Requester found in OS/2 Warp Connect. This single requester lets you use and share peer resources, access servers, and administer OS/2 Warp Server and IBM LAN Server domains. As in OS/2 Warp Connect, objects on the desktop inherit peer functionality in their context menus, making the entire Workplace Shell network-aware.
The NetWare Client for OS/2 2.11 comes with OS/2 Warp 4 and provides maintenance, as well as OS/2 global administration capabilities for NetWare Directory Services.
TCP/IP 3.5, also included in OS/2 Warp 4, has many new features, including:
Dynamic IP Client enables the client to pick up an IP address from a Dynamic Host Configuration Protocol (DHCP) server, simplifying administration of IP addresses and enabling reuse of IP addresses. Dynamic Domain Name Services (DDNS) offers dynamic name resolution, simplifying network access, operation, and IP address changes.
Socks Security enables TCP/IP applications to access the Internet through many standard firewalls, as well as permits users to seamlessly access both intranet and Internet resources.
WinSock 1.1 Open32 Support ports your Windows 3.x and Windows 95 TCP/IP applications.
Variable Subnet Routing allows a system with multiple LAN adapters to function as an IP router.
IP Alias Support allows multiple IP addresses to be associated with a single LAN adapter. This is useful, for example, when you want a single Web server to serve as multiple Web sites while using only one LAN adapter.
Multicast allows packet transmissions to multiple users and takes advantage of different transmission size packets for multimedia, telephone, and video conferencing.
Personal Communications TCP/IP Entry 4.1 provides 3270 and 5250 emulation based on the full-function product available from IBM. For more details about the functions supported, see "The Personals in OS/2 Warp 4" article later in this issue.
Retrieve Software Updates, a Web browser-based process, retrieves software and installs fixes and upgrades from an IBM Web site.
Along with these enhancements to TCP/IP, the suite of TCP/IP applications in OS/2 Warp Connect -- Telnet, LPD, FTP, Ping, Finger, Talk, and others -- is also included in your OS/2 Warp 4 TCP/IP connected environment.
One of the most popular ways to get connected today is through the World-Wide Web using a Web browser. OS/2 Warp 4 comes with WebExplorer 1.2, which includes support for HTML 2.0 and contains several fixes and updates.
Speaking of today's popular Internet topics, let's talk Java! OS/2 Warp 4 provides full native support for programs written in the Java Programming Language. This Java capability lets you run Java applications or Internet applets right on your OS/2 Internet-aware desktop, independent of your browser. If you want to develop your own Java applications, OS/2 Warp 4 comes with a built-in Java Developers Kit, as well as the runtime code necessary to run Java applications. For more information on Java, see the "Java in OS/2 Warp 4" and "Developing with Java and OS/2 Warp 4" articles in this issue.
Many people today require the same network connections while they are on the road as they have back in the office. The OS/2 Warp 4 Remote Access Client gives remote users access to all LAN resources through a dial-up connection made using a LAN Distance server or OS/2 Warp Server.
Another excellent connectivity feature for remote users is the ability to locally cache remote files. With OS/2 Warp 4's Mobile Office Services, files being accessed on the server are cached locally and remain accessible even if the connection is broken. When the connection is re-established, Mobile Office Services detects file differences and prompts you for resolution.
Application Compatibility
OS/2 Warp 4 provides Security Enabling Services, a set of common application programming interfaces (APIs) that allows third-party vendors to produce security solutions for file, print, and process activities to meet the functions described within the C2 evaluation criteria.
OS/2 Warp 4 continues to provide astonishing support for your DOS and Windows application programs. Unlike the previous version, OS/2 Warp 4 comes in only one flavor -- with Win-OS/2 support. Your Windows programs will run better than ever, because the Windows support has been tuned to run with OS/2 Warp 4. OS/2 Warp 4 also supports Win32s APIs at the 1.25 level. You can even launch a dedicated DOS, DOS/Windows, or Windows 95 session from your OS/2 Desktop by hibernating OS/2 (for details, see "The Dedicated DOS/Windows Session in OS/2 Warp 4" later in this issue).
In the past, a document produced with TrueType fonts, then used under OS/2 with Adobe type fonts didn't look right. But now it will -- the OS/2 Warp 4 Presentation Manager supports TrueType fonts.
OS/2 Warp 4 support goes far beyond simple programming applications. There is runtime support for cross-platform compound documents with OpenDoc. If you are porting Win32 applications, OS/2 Warp 4 comes with Open32 (formerly known as the Developer API Extensions). OpenGL APIs are also now available to support highly precise 3-D rendering applications for CAD, entertainment, industrial design, modeling, biochemistry, and scientific visualization.
OS/2 Warp 4 also includes:
Support for EMS and XMS, the older memory specifications
Enhanced DOS protected mode interface (DPMI) to improve support for DOS and Windows applications
Support for language-independent, cross-platform architecture for sharing objects from SOM/DSOM 2.11
REXX and Object REXX, easy-to-use scripting languages for the OS/2 Workplace Shell and OpenDoc based on the System Object Model (SOM)
Hardware Support
The OS/2 Warp 4 package includes the Device Driver Pak CD, a new, as-is offering. This collection of hundreds of OS/2 device drivers is conveniently accessible in one place. The CD also contains information about how to download and install device drivers on your OS/2 Warp system.
The Device Driver Pak is organized as a series of Web pages. It helps you find information about the Device Driver Pak CD and, if you are connected to the Internet when using the Device Driver Pak CD, it also provides information about the World-Wide Web.
Beyond the new Device Driver Pak CD, OS/2 Warp 4 has enhanced hardware support in many areas, including:
Support for more than 50 new printers, including the popular HP DeskJet and Canon BubbleJet printers.
Enhanced plug and play (PnP) support, which automatically detects and installs enabled drivers for legacy ISA devices and PnP devices. The Hardware Manager (located in the BonusPak) lets you view system information about the physical devices, device drivers, and the system resources in use.
Support for Display Data Channel (DDC2) adapter/monitor specification. With this support, your system automatically recognizes enabled monitors and sets the highest refresh rate, thus reducing screen flicker.
An enhanced Self-Monitoring Analysis and Reporting Technology (S.M.A.R.T.) specification for IDE drivers, which includes a user interface that warns you about impending hard-drive failure.
A new 32-bit graphics device driver model that improves Presentation Manager performance.
PCMCIA enhancements that include card and socket services, cardbus and multifunction card support, as well as an enhanced user interface.
An updated Advanced Power Management (APM) to support suspend, resume, and device management control.
Support for warm plug and warm docking, and the swapping of diskette and CD-ROM drives in specific IBM ThinkPad 755 and 760 models.
Infrared support, including the ability to print from OS/2 and Windows applications through the infrared port to wireless printers that support the Infrared Developers Association (IRDA) interface.
A framework and API for delivering quality, 32-bit MIDI applications (available for IDE only).
OS/2 Warp 4 also has many new, powerful printing capabilities:
Connect to a variety of printers via the parallel port, serial port, infrared port, or a network address for a network-attached printer on the LAN.
Use a single window to display and manage all printer objects defined on the desktop.
Automatically select printer drivers for plug-and-play printers when creating printer objects for printers attached to your desktop. You can also automatically download printer drivers to your desktop for local and network printer objects, as well as maintain printer drivers and printer properties on your desktop for network printer objects.
Fully exploit intelligent network-attached printers to:
Display the status of print jobs in the printer
Receive true end-of-job notification
Cancel jobs in the printer
Display the status of a printer in a printer object
Set a printer object's properties to the actual configuration of a printer
View printer capabilities
Remotely manage and configure the printer from your desktop
Display the progress of print jobs:
Percentage of a print job that has been spooled for printing
Percentage of a print job that has been sent to a printer
Page number of a print job that is being sent to a printer
Page number of a print job that is being printed on a printer
Total size of a print job in either pages or bytes
Use drag-and-drop to move and copy jobs between printer objects on the same desktop or on the same peer server.
Use drag-and-drop to re-prioritize jobs in a printer object.
Define a default print priority for each printer object.
Specify formatting options to print text files.
Select the information to be displayed for each print job in a printer object.
Systems Management Client
OS/2 Warp integrates smoothly into heterogeneous network environments through its Systems Management Agent.
The OS/2 Warp Systems Management Client provides many functions to assist you in managing workstation resources. When you use remote management tools over a network, the Systems Management Client lets you choose from several industry-standard interfaces and protocols: Desktop Management Interface (DMI), SNMP Distributed Protocol Interface (DPI), and Tivoli TME 10 NetFinity Client interface. Support for these protocols allows you to control OS/2 Warp from a wide variety of systems management tools that support these protocols.
The following features come with the OS/2 Warp Systems Management Client:
System Dump Formatter -- To assist in diagnosing problems in an OS/2 Warp system, this function allows the OS/2 kernel to generate system dump information, which is then formatted by a generic report generator.
System Anchor Block -- Serviceability is improved by providing pointers to a server's key data structures, minimizing the need for OS/2 symbol files.
FFST Probes -- First Failure Support Technology (FFST) captures all data about an error when the error occurs.
Desktop Management Interface (DMI) -- DMI is a server layer that masks the complexity of managing the desktop environment for both the user and component developer. It offers a standard way to enable and manage desktop systems. DMI enables vendors to easily add remote manageability to their products. DMI processes information about FFST probes as well as the system's hardware and software. A local browser to view this database of hardware and software information is provided in TME 10 NetFinity.
SystemView Agents -- A common agent framework is provided to support the management of DMTP Desktop Management Interface (DMI) 1.1-compliant components and IETF SNMP Distributed Protocol Interface (DPI) 2.0-compliant subagents.
Single CID Response File -- All configuration information is stored in a single configuration/installation/distribution (CID) response file for the entire product.
Automatic Registration Tool (ART) -- This online registration tool lets you register software electronically through a modem, the Internet, FAX, mail, or phone. You are periodically reminded (up to five times) until you complete your registration.
TME 10 NetFinity Services 4.0 Features -- TME 10 NetFinity Services is a highly flexible hardware and software management program with general systems management functions. When TME 10 NetFinity Services is on a client system, it allows that system to be managed by any TME 10 NetFinity Manager.
It also enables you to use NetFinity's valuable monitors, software inventory, and hardware information to easily manage and monitor your workstation, and to set alerts when critical events occur. Therefore, even if you're not LAN-connected, you can monitor your system's resources. If you are connected to a LAN, TME 10 NetFinity Services supports multiple protocols allowing the client to be managed by any NetFinity manager or SystemView for OS/2 manager.
Additional TME 10 NetFinity Services functions include remote session management, resource and performance monitoring, extensive alert management, software inventory, and event scheduling.
Remote session management allows a manager system to execute commands remotely on an OS/2 Warp 4 client. This means the system administrator doesn't have to go to the client computer to determine and solve problems.
Resource and performance monitoring includes CPU, DASD, swapper files, memory, video, SCSI subsystems, power management, peripheral devices, security features, vital product data, TCP/IP network protocols, system processes, IBM OS/2 LAN Server (if installed), and print job characteristics. Historical monitor data can be saved as ASCII text, SQL, DB/2, or Lotus Notes database files. Voltage and temperature monitors are included for selected systems, as well as peripheral component interconnect (PCI) support for reporting about the types and settings of PCI devices installed on the system.
Built-in alert generation and logging lets you set conditions and thresholds on the client system. When these thresholds are exceeded, an alert is generated. These alerts can be visual alerts or can be forwarded to vendor independent messaging (VIM)-compliant e-mail, TCP/IP Send-Mail, or alphanumeric pager.
Software configuration and inventory information lets you detect the presence of non-standard application and executable files, in addition to standard libraries of common applications.
Event scheduling can be used to execute a particular event to start on an hourly, daily, weekly, monthly or yearly interval. This lets you easily schedule file transfers and inventory, and even reboot systems during off-shift hours without being in attendance.
Systems management via intranet lets you easily manage OS/2 Warp systems from virtually anywhere. With TME 10 NetFinity's industry-leading technology, all TME 10 Netfinity services can be accessed from a simple Web browser running on any platform.
BonusPak
If you use OS/2 Warp 3.0, you are already familiar with the BonusPak, a series of applications included with the OS/2 Warp package. In OS/2 Warp 4, some of these applications are merged into the OS/2 Warp operating environment itself, while others have been retained and enhanced. The BonusPak is now an integral part of the OS/2 Warp 4 installation; it is no longer on a separate CD.
BonusPak applications and their enhancements include:
IBM Works, an integrated word processor, spreadsheet, database, charting, and reporting package. IBM Works now includes expanded toolbars, context menus for elements within documents, URL support in the word processor, built-in sort functions in the spreadsheet, and support for a wider variety of import and export file formats. IBM Works now supports Lotus cc:Mail -- if you have cc:Mail installed in your system, you can send mail directly from IBM Works.
Personal Information Manager, a calendar, scheduling, and contact-tracking tool. Personal Information Manager can now import and export data from and to other applications. Password protection is added to the Phone Book, Appointment Book, and To-Do List modules, so that you can prevent unauthorized access to your information.
HyperACCESS Lite for OS/2, an async communications program to access bulletin board services. Updates include user-defined modem strings and more colorful icons.
CompuServe Information Manager (CIM) for OS/2, an application that provides access to the CompuServe online service. CIM 2.03 removes the OS/2 registration requirement. It now contains a new filing cabinet utility with a full-text search option, and it stores the records in a database format for easier search and retrieval. The initial CIM window is improved for easier use.
FaxWorks Lite, a fax program that enables you to send and receive faxes using a fax modem attached to your OS/2 Warp system. The following new features are in FaxWorks Lite Version 3:
Class 2.0 fax modems and IBM Mwave adapters are supported.
Voice answering-machine functions are added for use with supported voice/fax modems (Rockwell chipset) and IBM Mwave adapters. When these functions are enabled, you can use the same telephone line to record voice messages and receive faxes. This feature is fully integrated with OS/2 Warp's multimedia audio support, so you can use your OS/2 Warp system to play voice messages on your speakers and record your greeting message with your microphone.
In addition to the standard cover sheets that allow you to select a bitmap image, you can also select from several additional cover sheets.
The FMD.SYS driver is no longer required. FaxWorks Lite now uses the standard COM device drivers.
The ability to accept "hot hand-off" calls from data programs for data/fax line-sharing is now supported. Data programs that use this feature can pass the call to the fax program after they have answered the phone and determined that it is a fax (rather than data) call.
Network Printer Administration, a set of tools for network-attached Hewlett-Packard and Lexmark printers. This new utility in the OS/2 Warp BonusPak includes Hewlett-Packard's JetAdmin package and Lexmark's MarkVision for OS/2. These tools allow you to install, query, manage, and troubleshoot network-attached printers from your Workplace Shell desktop.
Hardware Manager, a replacement for the System Information Tool in previous versions of OS/2 Warp. The Hardware Manager lets you view the configuration and status of the devices installed in your computer, such as your processor, memory, hard-disk drives, and adapters.
Changes in packaging: VideoIN and AskPSP are still part of the BonusPak. The Internet Access Kit and Multimedia Viewer are now integrated into OS/2 Warp 4. Person to Person has been removed.
Complementary Product CDs
Packaged with OS/2 Warp are several CDs containing products or samples from other software vendors.
Application Sampler
The Application Sampler CD contains a collection of sample OS/2 Warp applications. Most sample applications are subsets, demonstrations, or limited-use products. You can contact the vendor for keys to unlock the product or to order the full (unlimited) version. The applications are provided as-is, and you are referred to the supplier for questions and support.
Applications are suited for a broad range of users and fall into five categories:
personal productivity, communications, utilities and tools, education and reference, and entertainment.
The applications are provided on a single CD with a convenient installation program. A folder on the OS/2 desktop lets you review the applications, view system highlights and requirements, and install and/or execute the applications of interest.
Lotus Notes Mail 4.1
OS/2 Warp 4 includes Lotus Notes Mail, the Lotus Notes Release 4 messaging client, which provides state-of-the-art electronic mail support. Lotus Notes Mail offers several ease-of-use enhancements that help improve personal productivity, including:
A simple-to-use mailbox -- Lotus Notes Mail includes Post Office Protocol 3 (POP3) and Multipurpose Internet Mail Extensions (MIME). POP3 lets you to receive all your e-mail (Internet or interoffice mail) in one place, eliminating the hassle of checking multiple places for messages. MIME lets you send and receive messages containing graphics, charts, images, and video.
A full-featured word processing editor -- This editor embeds graphics and charts, and it supports multiple fonts, colors, tables, and a wide variety of formatting options.
Robust mobile support -- More and more users need to access e-mail while on the road or at home. Lotus Notes Mail provides excellent support for mobile users. If you frequently switch between a laptop and a desktop PC, you no longer have to remember which computer holds which e-mail. Lotus Notes Mail and OS/2 Warp 4 provide a mailbox replication tool that automatically synchronizes the mail stored on each system.
Speech commands -- Using Lotus Notes Mail with OS/2 Warp 4's built-in speech recognition software, you can simply tell your computer to forward, reply, cut, and paste -- commands that you would normally have to type or use a mouse to execute.
IBM Developer's Toolkit for OS/2 Warp 4
If you write OS/2 code either for fun or a living, you'll appreciate the new IBM Developer's Toolkit for OS/2 Warp 4. This toolkit is not included with the base operating system; it is available on CD as part of The Developer Connection and includes:
Tools for building programs, including SOM, OpenDoc for OS/2, Systems Management, UniCode Language support, and TCP/IP and LAN programming
Headers and import libraries for defining and resolving OS/2 API calls
API reference information
Online documentation
Sample programs to demonstrate API coding
Application debugging tools and aids
Best on the Planet
The OS/2 Warp 4 operating system brings together, in a single product, a vast collection of leading-edge capabilities, features, functions, and applications. It has been tested and certified to run on personal computers and workstations marketed by a long list of hardware vendors. Its reasonable price makes it affordable for anyone seriously interested in improving personal productivity on a computer. With all these things going for it, OS/2 Warp 4 is truly the best PC operating system on the planet.