OS/2 Warp 4 Desktop Tour
Jump to navigation
Jump to search
By Samuel Audet
OS/2 Warp 4 is an operating system developed by IBM. I will attempt to show you most of its major features, but there is so much to show. The tour will also include some applications which are available for OS/2.
Clean desktop where we see the Control Center's (Object Desktop) information area (drive space, swap size, time, can also have CPU meter, etc.). Those 4 "bitmaps" up there are virtual desktops.
The Tab Launchpad (Object Desktop) and Control Center can be arranged, placed and duplicated at will. Object Desktop's Window List also includes a command history, for frequently executed commands.
Both MOD and MID (on Desktop) are shadows of actual folders somewhere else (you can locate them in a click) containing the data, but they act exactly like their big brother folder.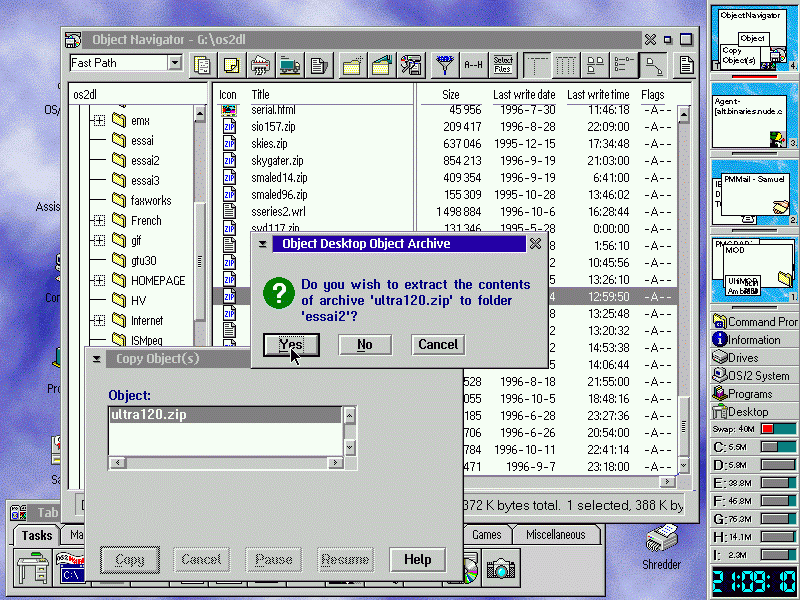 Object Navigator (Object Desktop) simulates a file manager, but really is an "Object Navigator". All names you see in here are actually the same as the one on your desktop.
Copy a ZIP file... - Want to extract it instead? - Oh, how nice of you, you thought about it! <g>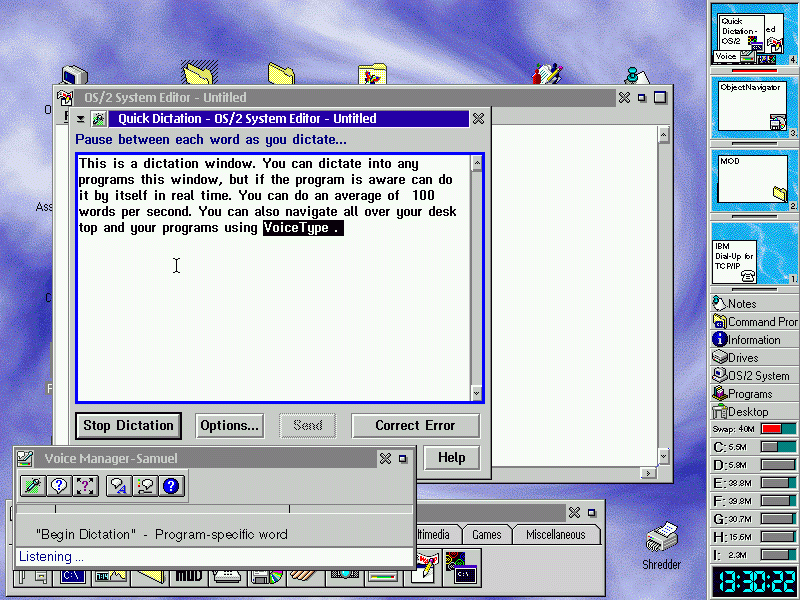 VoiceType!! Now that's a REALLY cool feature...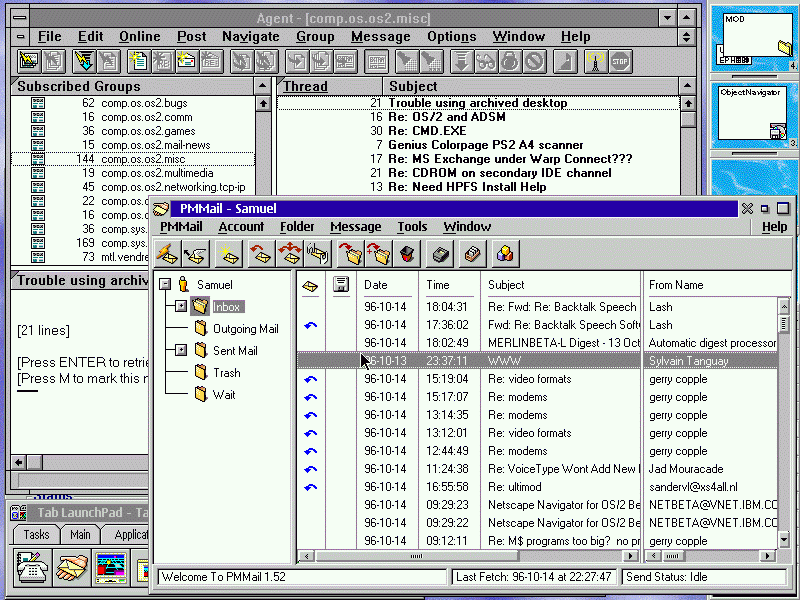 Shows Agent newsreader (Windows 3.1 program) and PMMail 1.52 mailer (fully drag and drop enabled).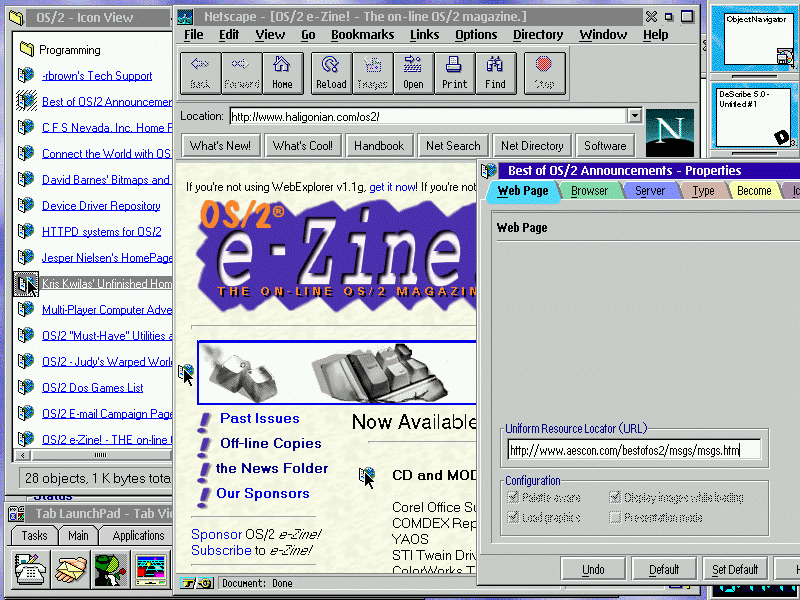 This is Netscape for OS/2 in action with URL objects. The URL objects are considered as being shadows of a site on the Internet that you can drag in and out. You can also drag the HTML codes, the images of a page, and you can also shadow and copy the links in a page.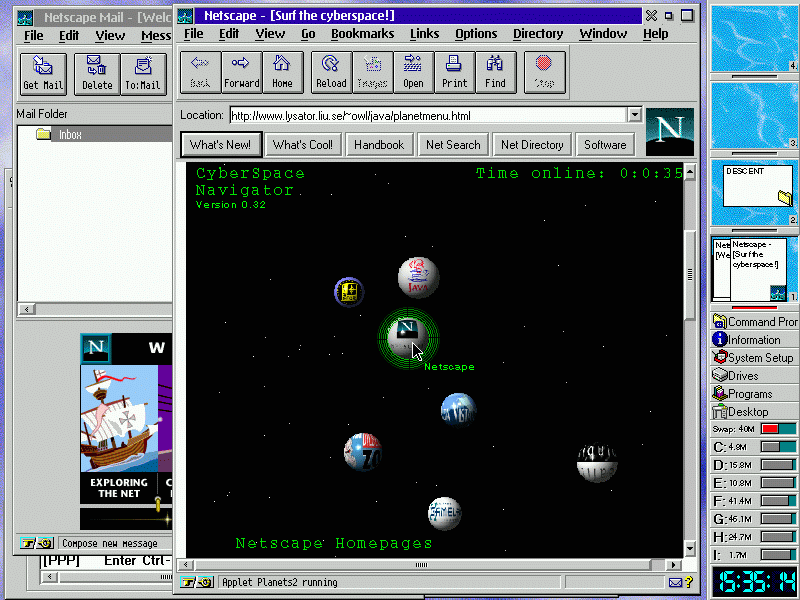 Shows Netscape for OS/2 running one of the greatest (IMHO) Java applet!! Netscape also has the mail and news module included.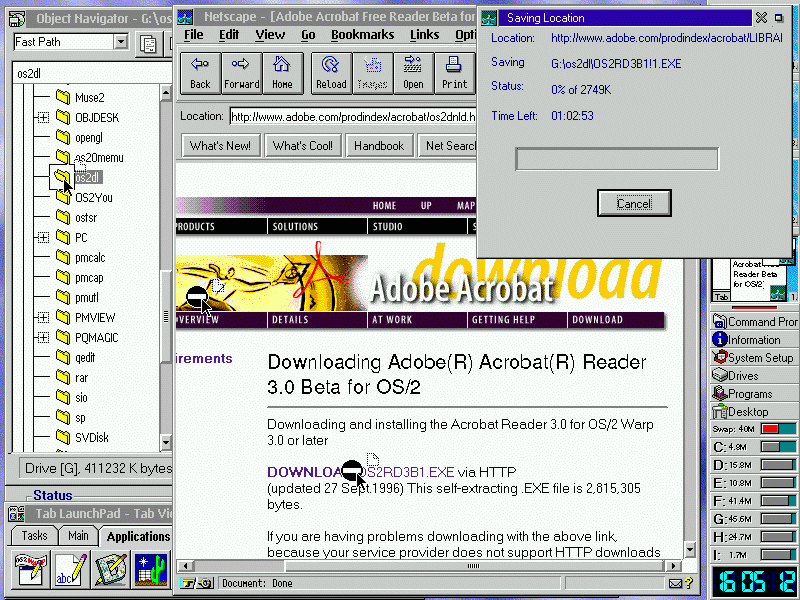 Netscape can copy the links content (like mentioned before) by dragging it directly into the desired place. Here, it is starting a download of Adobe Acrobat Reader 3.0 beta for OS/2.
Showing a Java program executing independently from an internet navigator. QuoteGrabber gets the Market stock values from New York, and can run on any Operating System (OS/2 being the first to support it out-of-the-box). Java programs can (will) run on any platforms. Yes, that means Corel Suite for Java will run in OS/2!! (see Page 24)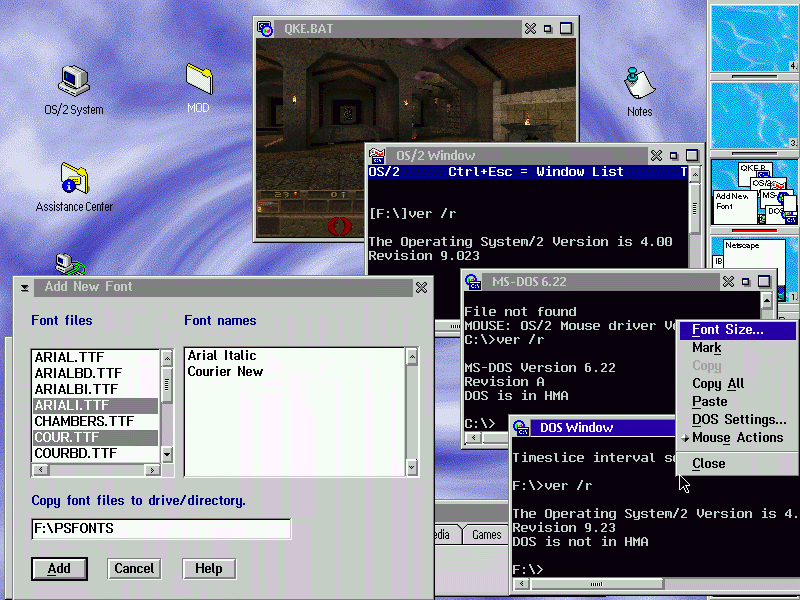 OS/2 text window, DOS text window, and a Virtual Machine Boot running MS-DOS 6.22. Now supports Mouse Action (easy copy, paste and font change). Quake runs great!! :-)
OS/2 Warp 4 also now supports TrueType fonts.
This is the new WordPro for OS/2 from Lotus... nothing good for OS/2 hey? Wait till you see the next screen shots.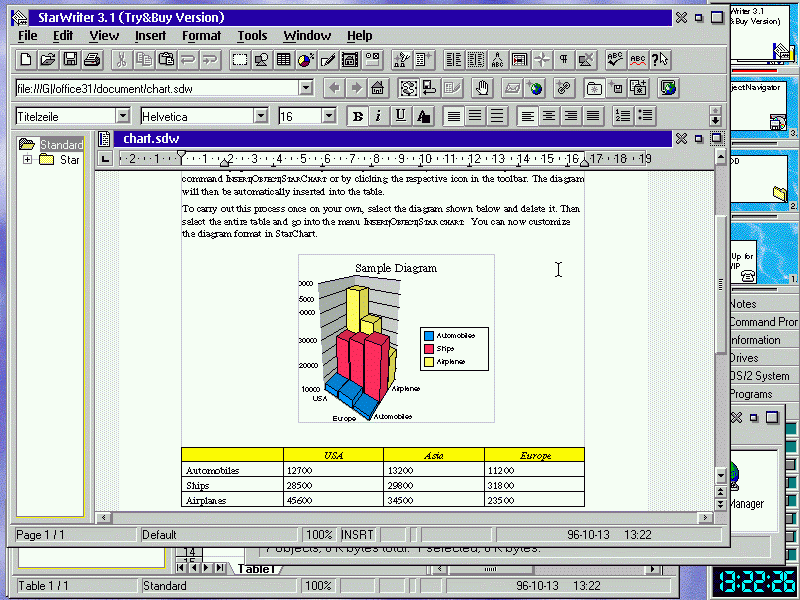 Wow! another Word Processor, this time a MS Word clone.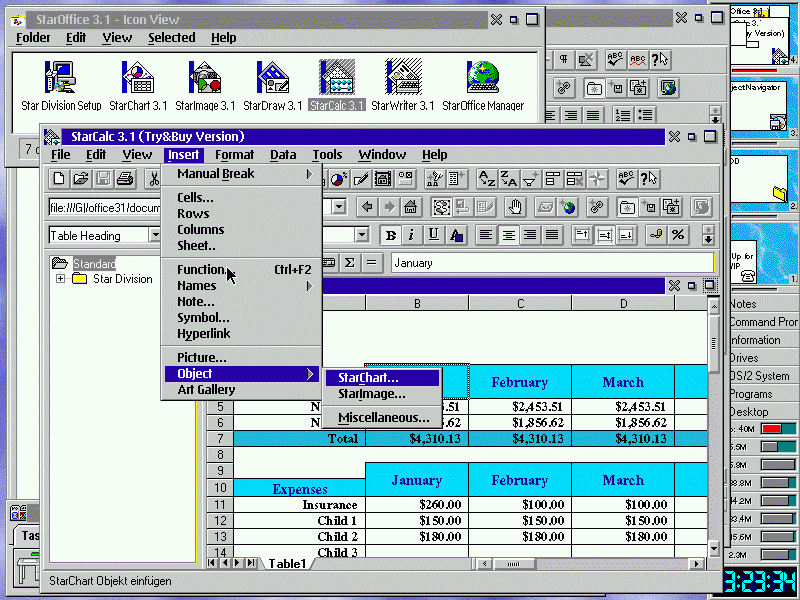 StarCalc is a spread sheet, and can probably compete with Excel 5. StarOffice 3.1 comes with other programs too, which are ALL fully Internet integrated!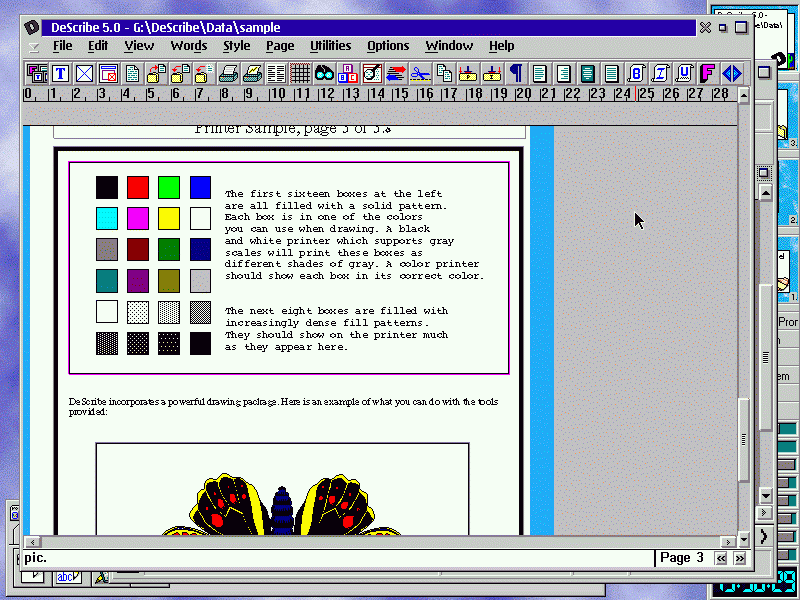 Another good word processor. The good old Describe, still a the top with it's unsurpassed multi-threading and object orientness. I'm currently using it.
This is Mesa, a spreadsheet, object oriented (drag 'n drop) and multi-threaded to the bones, including REXX script capabilities (REXX is system wide scripting utility). I also use this one currently.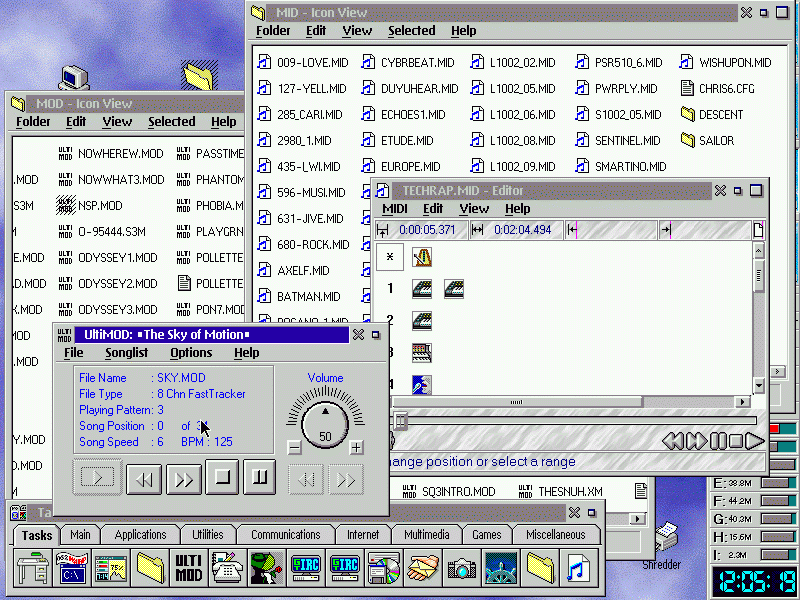 We see here new Warp 4 multimedia WPS integration. Click on any supported formats and it plays INSTANTLY. Supports out-of-the-box AVI (not Microsoft "101" modified AVI standards, although most can be added), MPEG (OpenMPEG for software playback and enhanced MPEG support can be gotten free of charge), FLI/FLC, JPG, GIF, BMP, PCX, TGA, TIFF, DIB, VID, WAV, AU, SND, VOC, AIFF and MID. Also has new Viewers (playing with control panel) and Editors. QuickTime player from Apple is coming out early in 1997. Graphic and sound objects can also be converted using the popup menu!
We also see Ultimod (a great module player) playing, which is fully Object Oriented (drag 'n drop for single and multiple modules as well as song list and association aware, i.e.: loads in the opened player).
A QuickTime movie playing with QuickMotion (not the Apple player).
OpenMPEG playing an MPEG-1 video file compiled using Neon 3D, a 3D rendering utility for OS/2.
Templates are an easy way to reproduce objects that you need often. Just drag 'n drop and a brand new copy is made! You can easily make any kind of templates you want. FTP folders, WebSites, Program Objects, Folders, etc. Example: you use a spreadsheet model every day, just set the model file as a "template" and it automatically copies when you drop it in a folder, or in an opened OS/2 spreadsheet!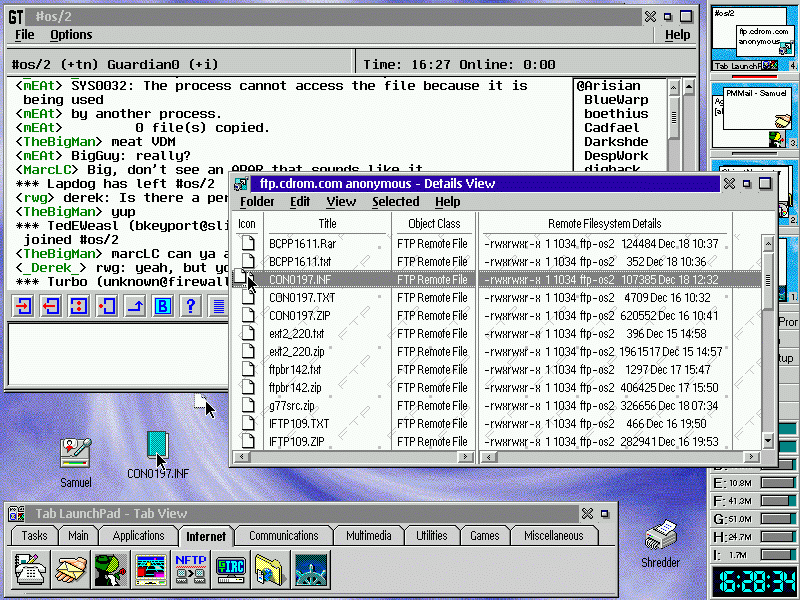 Another new feature in Warp 4 internet desktop are FTP folders. They are the same as any folder, drag your objects out and in!
We also see a nice IRC client running in the background which supports REXX.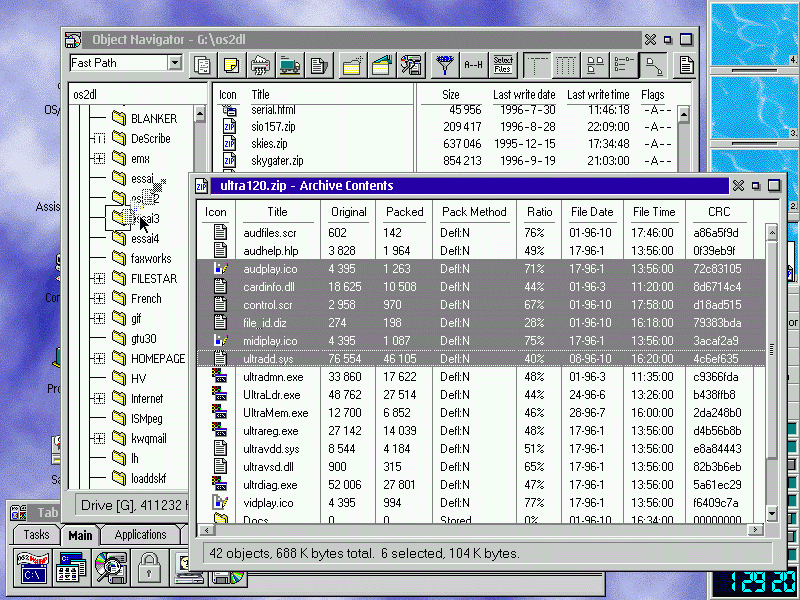 ZIP Folders! (Object Desktop) Also supports LHA, ZOO, ARC, TAR-GZIP, and RAR!
Here's an Object Browser (yes, these objects act exactly like anything on your desktop or in Object Navigator). You can add anything you want to that bar, just drag Objects wanted.
In background is Warp 4 new hardware manager for its PnP support.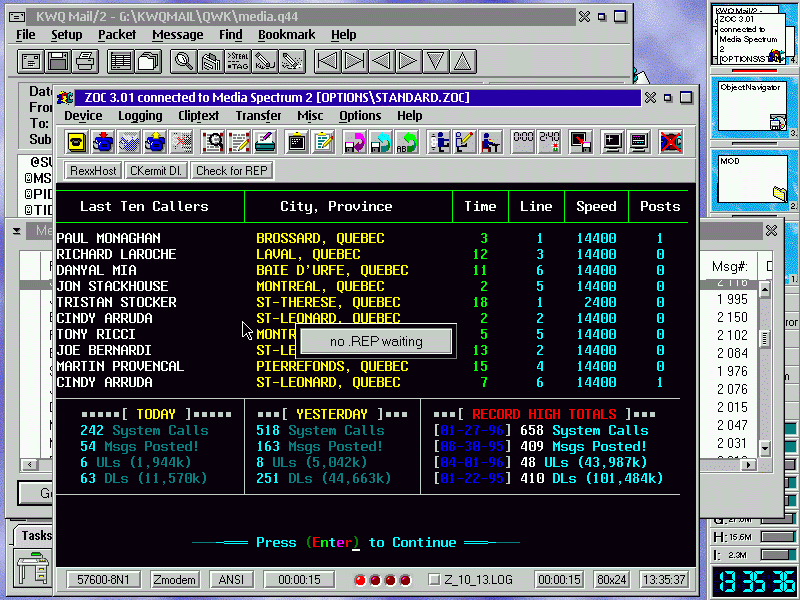 ZOC, my communication program (showing a useful little REXX script in action), and KWQ Mail/2, my QWK Mail reader, running in background.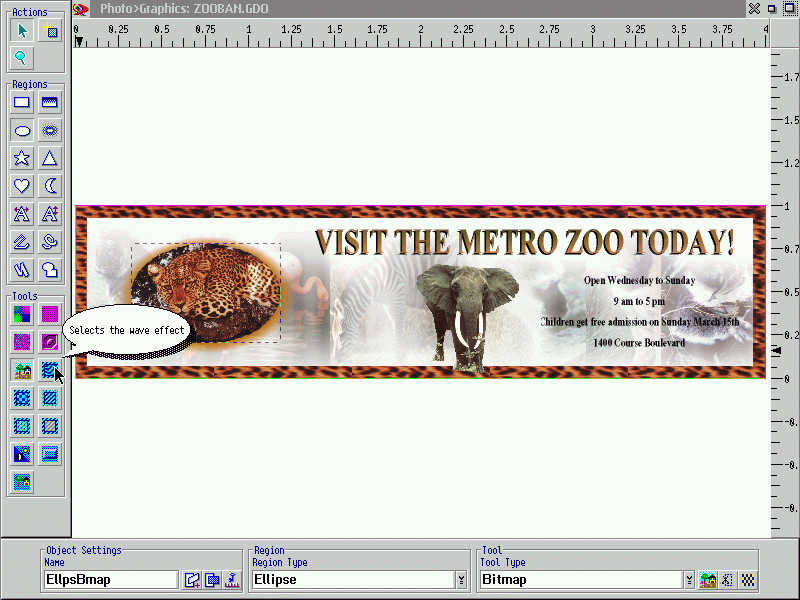 Photo>Graphics by TrueSpectra. A fully multi-threaded, and object oriented designer. Supports text, bitmaps and drawing.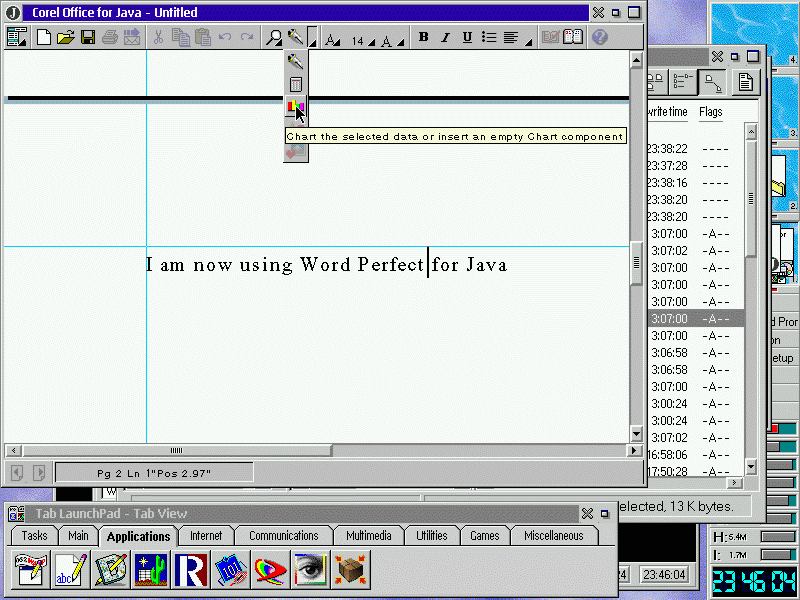 That says it all... this is the first pre-beta of Corel Suite for Java.
In conclusion, you might wonder why you'd like to have OS/2 Warp 4 on your computer? In short, it's faster than WinNT, more stable than Win95, easier to use than both WinNT and Win95, it's safe proven technology, it runs practically all of your DOS and Windows 3.1 programs, including most games, and it's based on the best open (i.e.: non-proprietary) standards and some not found out-of-the-box in any other OS yet (VoiceType, Java, OpenDOC, OpenGL, MPEG, QuickTime and SOM).
And by the way, when I say, easy to use, this means that All windows, browsers, navigators, icons, folders are All customizable and reproducible (can have multiple copies, each for a specific task for example). They can also All be redirected using shadows (This is where MS thought about ShortcutsTM, but shadows don't lose themselves if the original moves). Also, all that customization is fully consistent for all objects, so you don't have to remember which is what and where, and for which. Finally, most OS/2 software accept drag and drop directly from the desktop, folders or other programs. All made possible by SOM.
OS/2 Warp 4 comes with a full 600 megs CD containing 80 application and game samplers. You can try them all, right out-of-the-box, and decide later which you'd like to buy.
It also comes with Lotus Notes Mail 4 for FREE on another CD. You can use it over Intranet or Internet using Notes server or traditional POP3 and SMTP servers.
OS/2 Warp 4 CD itself comes with a free Bonus Pak containing IBM Works (Full Office in small power), FaxWorks Lite 3.00, 3 games (Chess, Klondike Solitaire, MahJong solitaire), HyperAccess Lite, a troubleshooting helper named AskPSP (it's really good), a remote support client (which allows IBM to log on your computer to see what's wrong), a Video Editor and CompuServer Manager. It also has WarpGuide User Interface Agent (a yellow guy that initially guides you around the desktop), REXX and ObjectREXX, Multimedia, and all networking utilities you need (this includes the Internet). And of course, it comes with a fully implemented VoiceType allowing to talk to your computer to both navigate and dictate (100 words/sec), and the ability to execute Java applications (applications that can (will) run on any platform). OS/2 Warp 4 also installs on your Desktop an eye catching URL Link to get Netscape for OS/2 for FREE!
Another CD has 250 Megs of drivers. It's very simple to use, and every known drivers are there. You can also consult the CD before installing Warp 4 since it comes with an indexer in HTML format (like this Desktop Tour). And even more, a Website is regularly updated with new drivers.
Have a nice day, and don't hesitate to contact me for any questions your might have.
OS/2 Warp 4 official site at IBM: www.software.ibm.com/os/warp/html2/index.htm
Samuel Audet