Partition Magic Tames Your Drive


PowerQuest's Partition Magic Massages Your Partitions
Ken Willard gave us a first person account of how he used the new Partition Magic to fix a friend's computer. -ed.
I just finished an all-day project in 2.5 hours. A friend of mine had his hard drive laid out in three partitions and decided that he wanted more room on the OS/2 partition. So what do you do? The system didn't have a tape drive, so we were going to have back up the system to diskette, repartition the drive, re-install OS/2 and restore all the data. YUCK!
Fortunately I've owned PartitionMagic from version 1.0 and just received my upgrade to version 2.02. PartitionMagic is a hard disk tool that lets you shrink, expand and move existing physical partitions - without destroying your data.
Instead of having to backup all the data, destroy the partitions on the drive and rearrange them, then re-install all of his software, we were able to cut to the chase - fixing the partitions directly.. After backing-up only critical data, the machine was booted from diskette and we ran PartitionMagic. It has an easy-to-use graphic interface, so resizing the drives was a point-and-click process. PartitionMagic not only allowed us to resize drives, but checked the current condition of the data and would have alerted us if there were any current problems (such as the need to run CHKDSK).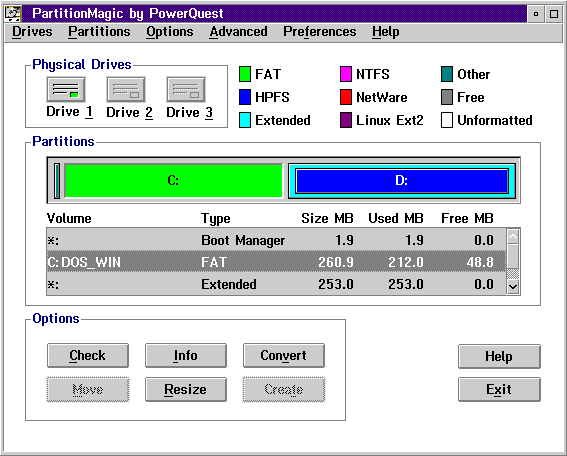 PartitionMagic can also create partitions, delete partitions and fast format both FAT and HPFS drives. Additionally, if you have a FAT drive with OS/2 and you have now decide to take advantage of HPFS, PartitionMagic allows you to convert the file system from FAT to HPFS.
While admittedly I don't use PartitionMagic on a daily basis; when I do use it, I save untold hours of work and frustration. PowerQuest's PartitionMagic is an invaluable tool for this writer.
Check out Partition Magic at http://www.powerquest.com.