Pen for OS/2
Pen for OS/2
Version
1.03 (1996-09-04)(UR0105M)
Vendor
IBM
Author
License
Freeware
Download
v4penos2_2.zip
Website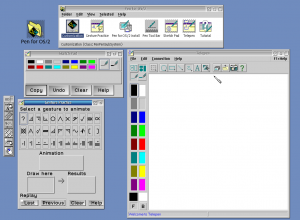 Pen for OS/2 is a package of tools, WPS Classes (PenPenSubSystem, PenObject, PenButtonDevice, PenDisplay, PenLocator, PenLocatorFinger, PenLocatorPen, PenMouse, PenSound), drivers and documentation to support a pen pointing device on OS/2. It includes the Gesture Practice, Sketch Pad, Telepen and Pen Tool Bar tools.
Note

On modern OS/2 releases like ArcaOS or eComStation, you need to close/kill the "mmhelpdd.exe" process to be able to run the installer.
Config.sys changes
These are the config.sys changed after the install.
DEVICE=C:\Pen\EMI.SYS
DEVICE=C:\Pen\EIQO2.SYS
DEVICE=C:\OS2\BOOT\MOUSE.SYS  

NOTE

MOUSE.SYS included on this package may be older than the previous one
SET PENPM=C:\Pen;
SET PEN_INKING_PRIORITY=HIGH

Drivers
appoint.sys
artpad.sys
artz.sys
concerto.sys
dauphin.sys
grid.sys
ibm360p.sys
ibm710t.sys
ibm730t.sys
ibm750p.sys
ibmlanlk.sys
kurtaxgt.sys
mouse.sys
pencc.sys
wacomos2.sys