Selective Re-Instation of TCP/IP apps
One of the first things I did after installing Warp4 was to stuff up my TCP/IP by installing a older version of Web Explorer without realising what I had done. The question I had was, how do I get back the V1.2 from the installation. I could reinstall TCP/IP to get it, but this would probably stuff up my configuration for my diallers and seemed like a long winded way of doing things anyway.
SO I started hunting the CD-ROM and found a installation program for it which allows you to selective install TCP/IP components. Using it I was able to reinstall the Web Explorer and have not had any problems ever since. The program is located in:
G:\CID\IMG\TCPAPPS\INSTALL.EXE

Where G is the drive letter assigned to your CD-ROM.
Running it brings up this screen where you define the install path.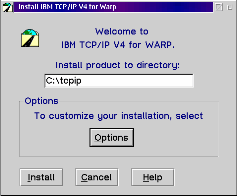 Pressing the options button displays this settings notebook where you can select the options and applications you want to install.