Tame/2
Tame/2 keeps the promise of easy scanner access. You no longer must fight with non-mnemonic command lines to produce scans or to get the most out of your scanner (as far as SANE supports it).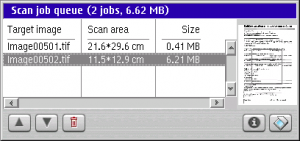 It is nothing more and nothing less than an bridge between your scanner, SANE, MMOS/2 and your preferred picture painting/drawing/publishing application. Beyond simply controlling the scan process, Tame/2 supports printing and faxing from scans, uses an OS/2 "light table" to facilitate handling your scanned images, scanning from a queue, and scanning over a network.
Tame/2 is not a drawing or picture painting tool, therefore no picture editing capabilities are built in.
Tame/2 should work with every SANE release and with every Scanner supported by an OS/2 port of SANE. This is done using database of the specific settings for the scanners supported by SANE.
Version History
1.0.0.GA
Scan Multiple Copies now works with Real ADF too.
Fax and PDF as output options for 'Scan multiple copies' added
Bug when no printer is installed fixed
Bug when default is pressed without selected scanner fixed
Settings for external programs added
Settings for keyboard shortcuts added
Script generation added
WPS-Integration when WPS-Wizard is installed added
Settings for OCR added
Faxview updated to 1.19c (Thanks to Harald Pollack)
Updated and corrected scanner.dat
Sane 1.0.14 builds with Intel byte-order for Tiff (Thanks to Franz Bakan and Maeda Haruyuki)
Downloads
tame101c.zip Tame/2 version 1.0.1c - Tame v1.0 executable and bundled Sane v1.0.16]
List of verified and supported scanners:
(It is quite possible that many more scanners are working. But as long we have no verification you won't see them here.)
Scanner Model
Backend.conf to use
Notes

Microtek Scanmaker 630
Microtek Scanmaker 330
Microtek Scanmaker 636
Microtek Scanmaker V6USL
Microtek Scanmaker X12USL
Microtek Scanmaker X6

microtek2.conf
Additional parameter required :bntnln

Agfa Studioscan IISi
Microtek Scanmaker E3
Microtek Scanmaker E6
Microtek Scanmaker II
Microtek Scanmaker III
Highscreen Perfectscan

microtek.conf
Additional parameter required :bntnln

Epson 1200
Epson 1640
Epson FS200
Epson GT5500
Epson GT7000
Epson GT8500
Epson GT9500

epson.conf

Epson GT9700
Epson 1240
Epson 1640USB
Epson 1650
Epson 1660
Epson 640U
Epson 636U
Epson 610U
Epson 2400 PHOTO
Epson 3200 PHOTO

usbscan$.conf and epson.conf.
A SaneUSB build is required, it should include the file.

Due to a workaround for the Epson 610U and 640U scanning with PNM as format maybe broken. Problems with SIS chipset (and/or USBOHCI.SYS) and 2400/1650 reported, we guess USB scanning with SIS chipset doesn't work with any USB scanner. We also recommend to make sure that either no IRQ's are shared for USB, or use the latest OS2LDR (for Warp4 FP13 and up) to avoid problems with shared IRQ's.

HP ScanJet IIP
HP ScanJet 3+, 3P, 3C
HP ScanJet 4C, 4P
HP ScanJet 5P
HP ScanJet 6100C
HP ScanJet 6200C, 6250C
HP ScanJet 6300C, 6350C, HP 6390C
HP IICX, HP IIC
HP PHOTOSMART

hp.conf
Additional parameter (with HP only sometimes) required :bntnln

Mustek MFC600S
Mustek MFS6000CX
Mustek Paragon 1200A3Pro
Mustek SE12000SP, SE12000SP Plus
Trust 19200

mustek.conf
The mustek backend differs in certain aspects from the other backends so it is quite possible that you won't get all scanner/sane possibilities with Tame/2.

Medion MD9890
Mustek SE6000S

mustek_pp.conf
Parallel Port Scanner

Umax Astra 1200S, Astra 1220S
Umax Astra 2200
Umax 12S
Umax S6E
Umax PowerLook III
Linotype Hell Jade

umax.conf
artec.conf

Avision AV 620
Avision AV 630
HP 7400C, HP 7450C, HP 7490C

avision.conf
Only Color and Flatbed are working.

Canon FB620S
Canon FB1200S
Canon FS2710

canon.conf
The Canon FS2710S does no preview and scans only in PNM.

Rios RI 600
Sharp JX250
Sharp JX330

sharp.conf

Agfa Snapscan 1236S
Agfa Snapscan 300
Acer 310S
Epson 1670 PHOTO

snapscan.conf

Nikon LS20
Nikon LS1000
Nikon LS2000

coolscan.conf
coolscan2.conf

Dewcom Blackwidow 9636 PRO

pie.conf
Licence
Tame/2 is free software but it is not public domain. The authors retain all copyright to the application and all files within it. You may use Tame/2 yourself and you may distribute it to others so long as all files are left unchanged. You may not distribute Tame/2 in any way which leads to your making a profit from it. This means that you can only charge enough to cover the costs of media, postage etc. involved in distribution. Also you may not use it as an incentive to buy something else. If you are in any doubt you should contact the authors. The author's permission must be obtained before Tame/2 is included on a magazine disc and P.D. libraries. You should, as a matter of courtesy, inform the authors when you are planning to distribute the application and send one copy of magazine disc to the authors.
DISCLAIMER
The authors make no representations about the accuracy or suitability of this material for any purpose. It is provided "as is", without any express or implied warranties. The authors will assume no liability for damages either from the direct use of this product or as a consequence of the use of this product.
OS/2 is Trademark of International Bussines Machines Corporation
DrDialog is Copyright of International Bussines Machines Corporation
drctl016.dll is Copyright of Chris Wohlgemuth (Home page)
fastini.dll is Copyright of Dennis Bareis (Home page)
FaxView is developed by Dr. Harald Pollack
Nconvert.exe is Copyright of Pierre-e Gougelet (Home page)
Rxxmio.dll is Copyright of Lone Peak Automation, LLC.
Author
Thanks
Franz Bakan (Home page) - Authors of SANE ports to OS/2.
Maeda Haruyuki - UBS
Related Articles