WarpVision
WarpVision is an OS/2 multimedia player that supports the latest formats, as well as the latest hardware features.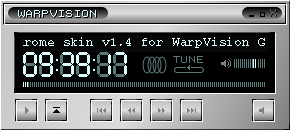 Features
Video playback of all of the major formats (DVD, DivX-3, DivX-4, DivX-5, XViD, MPEG-1, MPEG-2, MPEG-4, AVI, ASF and Quicktime/Sorenson v1)
Audio playback of all of the major formats (AC3, PCM, MP3, WMA)
Hardware-accelerated playback of supported formats (through use of HW EnDIVE driver or WarpOverlay!), with acurate sync for fast & slow CPUs
Decoding has been optimized through support of enhanced instruction sets (3D-Now!, MMX, MMX2, SSE, MMXEXT)
DVD options include selection of DVD title, angle, chapter, subtitle language, soundtrack language (even select from multiple instances of the same language)
Accelerated fullscreen and windowed playback, as well as the ability to play as a desktop's wallpaper (Out to Desktop function)
Switchable 4:3/16:9/4:3 with clipped edges (via GUI or hotkeys), option to maintain aspect ratio (during dynamic resize of windows and in fullscreen mode)
On-the-fly snap-to (zoom) 1:1, 2:2, 3:3, 4:4 and 5:5 through menu or hotkeys
Media seek via scroll-wheel (including wireless keyboard scroll wheel), hotkeys or GUI slider
Four-channel and six-channel audio support
Extensive named pipe control
Auto-detection of colour encoding scheme, auto-conversion between schemes to YUY422 done using enhanced instruction sets
Tons of post processing options
Skin support (BMP and PNG format)
Playlist functionality includes support for creation and use of WinAmp playlists, as well as the ability to autoload the last-used playlist on startup
Saves the last position stopped at during playback, for resuming from that point at a later time
Displays current position in the playing media, and alternately displays the current local time (in the GUI, when media isn't playing)
On-the-fly sliders, command line controls and hotkeys for setting of brightness, contrast, saturation, hue, gamma correction and volume
Re-sampling of audio to 44.1kHz or 48kHz, to facilitate support of various audio chipsets
Ability to easily change thread priority (class and delta)
Any command line options set for the WarpVision CLI are stored and used automatically on next execution
Authors
Alex Strelnikov - Author of the WarpVision "kernel", providing us with the porting and adaptation of audio & video CODECs, sync, resampling and more
Vlad Stelmahovsky - WarpVision GUI author, providing skin support, the player's PM interface and the WVGUI builds
Alex Samorukov - Provider of silly advice, skins, Web support and organization of the project
Konstantin Okounkov - Provider of project management, Web support and documentation
Yvon Letourneau - Provider of English proofreading for Kiev Elephant
Credits
WarpVision uses some code from many different GPL projects, including mplayer (libmpdemux, mp3lib), ffmpeg (extremely fast DivX/MPEG), xine (some stuff for gamma correction), liba52, mpeg2dec (libmpeg2) and Andy Zabolotny's libraries (libdart and libdive). All product names mentioned are property of their respective owners.