Workplace Security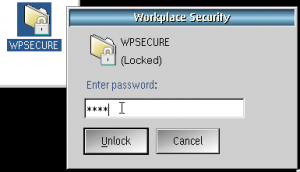 Workplace Security for OS/2 Warp provides seamless object level security for the Workplace Shell. Workplace Security was developed using System Object Model (SOM) technology.
General Description
Workplace Security provides password controlled access to protect your desktop objects from being deleted, renamed, moved, copied, dragged, or from receiving dropped objects. Workplace Security prevents "locked" objects from being opened or having their settings changed without entering the correct password. Workplace Security allows you to control which menu items are displayed for the desktop and for any folder or program object when the object is locked.
While Workplace Security provides access controls for your objects, it does not provide file-level access security. Any DOS, Windows, or non-Workplace Shell OS/2 file manager can access your files, regardless if an object is locked or unlocked. Workplace Security's "object-level" protection complements other file-level security products which do not provide object level access controls.
Ease of Use
After installing Workplace Security a new "Password" page is seamlessly added to the settings notebook for every "folder" and "program" object on your desktop, including the desktop settings notebook. The "Password" page contains the security options for the object. Once a password has been entered for an object, a "Lock" menu item is added to the objects menu. Simply select the lock menu item to secure the object. When an object is locked, an unlock item is displayed in the menu. Selecting the unlock menu item or clicking on the object displays the password dialog. The correct password must be entered to open the object.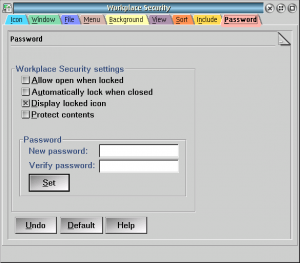 Features
Installation utility that provides easy product installation and de-installation. The installation utility conforms to IBM's Configuration, Installation, and Distribution (CID) architecture to support unattended installations.
Supports password controlled access to program objects, including any OS/2 program, DOS program, seamless Windows program, command prompt windows and program objects on the launchpad.
Shadow objects fully supported to reflect the real objects Workplace Security settings.
Rexx support to automate object security setup. Eases installation on large number of OS/2 Warp PCs.
Enhanced online User Guide with graphics and hypertext links.
Lockout option provides an alternative to the built-in "Lockup" facility.
Protect Contents option protects all objects in a folder or on the desktop from being deleted, moved, copied, renamed, dragged, or receive dropped objects.
Master password provides an additional level of safety in the event an objects password is lost or forgotten. The master password can be held by support personnel, or group responsible for security in your organization.
Global master password option requires the master password to access any settings notebook for the desktop and all program and folder objects.
Enable lock/unlock event sounds option allows you to hear when an object is locked or unlocked.
ChangeLog
2.1.5
fixed: SOM build error caused Install problems on Warp 3.0 GA and OS/2 2.11
Doc: Workplace Security deinstallation procedure has been updated. See the "Removing Workplace Security" section in this readme.doc.
2.1.4
Installation utility has been added to the Workplace Security folder.
Fixed - potential problem of the master password getting truncated.
Update - Menu items Create Another, Copy, Move, Create shadow, Delete, now removed when the "protect contents" option is selected, regardless if the folder object is locked or unlocked.
Warp 4.0 integration enhancements:
Now removes the "Logoff Network Now" menu item when the Desktop is locked
Now removes the "Lock in place" menu item when program objects are locked.
2.1.3
Fixed bug in the Rexx interface when using the LOCK=NO keyword.
Included a new WPSLOCK.CMD rexx utility
Fixed bug with the Undo button on the settings Notebook Password page.
2.1.2
Workplace Security is now Merlin ready!
Fixed Event sounds not working when installed in other than default directory.
Fixed password truncation problem
2.1.1
Removed all MMPM2 runtime requirements.
Find menu items are now filtered from all folders when the desktop is locked.
2.1.0
Updated Installation utility.
This release is now compatible with OS/2 2.11.
The "Find" object is now password protected when the Desktop is locked. The desktop password or master password must be entered to access the Find dialog.
New look dialogs. When clicking on a locked object, the objects icon is now displayed in the password dialog. The settings notebook password page options have been
The "Display locked icon" option has been changed to display an image of a small lock over the the objects icon when the object is locked.
A new global option to enable lock/unlock event sounds has been added to the Desktop's password page 2. Now you can hear when an object is lock or unlocked.(Requires that MMPM/2 is installed)
The "Remove special menu items" option has been integrated as the default behaviour, and the option has been eliminated from the password page.
The "Display (Locked) in icon title" option has been eliminated.
The behaviour of the "Automatically lock when closed" option has changed. It now locks regardless of the locked/unlocked state at the time the object was opened.
The behaviour of the "Lock" menu item can be overridden by checking the "Allow open when locked" option to prevent the open views of an object from closing when the "Lock" menu item is selected.
Updated registration utility.
Links
License