World Clock Gadgets for WPS-Wizard
World Clock is a highly configurable clock for OS/2.
Features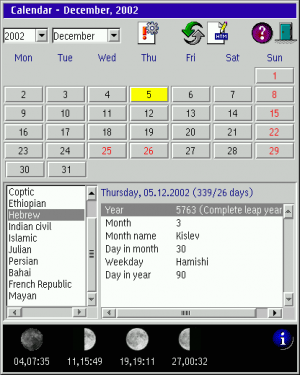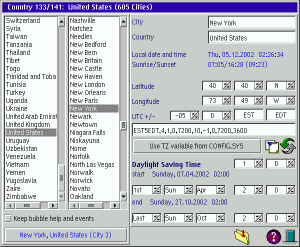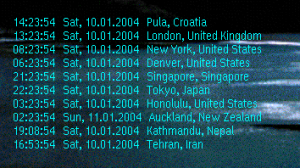 Display time, date, UTC difference and TZ descriptor for 1 to 30 cities from a provided list of more than 2000 cities
Fully qualified TZ (Time Zone) environment variable and coordinates (latitude and longitude) for all cities
Calculate and set TZ environment variable for CONFIG.SYS, using properties for selected city
Additional information for each selected city: coordinates (latitude and longitude), DST start/end, Sunrise/sunset
Various date and time display formats (ISO 8601 and country-specific)
Arrangement of selected cities in rows and columns, normal or compact display, "Stay on top" option
Alternate views of selected cities: Standard, Banner, List, Minimized and Title view
Selectable position, size, font and fontsize
Bubble help
Unlimited number of events for every city and date with Alarm (new in v.1.4.0)
Sound schemes
Universal date&time (UDT), Coordinated Universal Time (UTC), Internet time ("Swatch beat" @), Julian date (JD, MJD, TJD) in title bar
World time (Standard time in all Time zones) with World map
Calculate distance between two selected locations on the World map
Configurable Calendar for any year in range 1901 to 2099 with holidays and Moon phases
Calculate day of Easter in Gregorian and Julian calendar and Rosh haShana in Hebrew calendar (new in v.1.4.0)
Display selected date in other calendars: Julian, Hebrew, Indian, Islamic, Persian, ... (new in v.1.4.0)
Stopwatch
Add new cities (e.g your own if not in the list), or change city properties
Updates
NEW (2004-01-10): World Clock Gadgets for WPS-Wizard:
Gadgets are REXX scripts running hidden and drawing their output on the background of the desktop. World Clock gadgets display current date and time for selected cities in various views (list, minimized, banner) and list of upcoming events.
Download wclockgadgets.zip (31 kb) and unzip to World Clock directory. Run InstWcGadget.cmd script to install gadgets. Read wcGadgets.txt for more info.
FIX 4 (2004-01-01): Fixed bugs in World Clock:
Crash if DST descriptor in TZ environment variable has more than 3 characters.
Crash when "Title" view is selected.
Wrong time display in "12-hour format".
Wrong display in Calendar for leap year with classic Rexx interpreter.
Download wclock140fix.zip (188 kb) and unzip to World Clock directory.
Language Support
Support for other languages (Croatian, Dutch, French, German, Slovenian and Swedish) is available in wclock140lng.zip. Download and unzip wclock140lng.zip to World Clock directory and run InstLang.cmd script.
To add your Language support for World Clock, download Translation tool, and read included Translat.txt for instructions.
Download
License
World Clock is free software but it is not public domain. The author retains all copyright to the application and all files within it. You may use World Clock yourself and you may distribute it to others so long as all files are left unchanged. You may not distribute World Clock in any way which leads to your making a profit from it. This means that you can only charge enough to cover the costs of media, postage etc. involved in distribution. Also you may not use it as an incentive to buy something else. If you are in any doubt you should contact the author. The author's permission must be obtained before World Clock is included on a magazine disc and P.D. libraries. You should, as a matter of courtesy, inform the author when you are planning to distribute the application and send one copy of magazine disc to the author.
DISCLAIMER
The author makes no representations about the accuracy or suitability of this material for any purpose. It is provided "as is", without any express or implied warranties. The author will assume no liability for damages either from the direct use of this product or as a consequence of the use of this product.
OS/2 is Trademark of International Bussines Machines Corporation
DrDialog is © Copyright of International Bussines Machines Corporationon
fastini.dll is © Copyright of Dennis Bareis
CWRxUtil.dll and drusrctl.dll is © Copyright of Chris Wohlgemuth
Author