Difference between revisions of "Artie"
Line 22:
Line 22:
 

* [[OctoArtie]]

 

* [[OctoArtie]]

 

* [[Artie-in-a-box]]

 

* [[Artie-in-a-box]]

 
+
 
 
 

==License==

 

==License==
---
Revision as of 16:29, 8 April 2015
Artie is one of the self-proclaimed OS/2 Warp, eComStation and other OS/2 derivate OSes community mascot.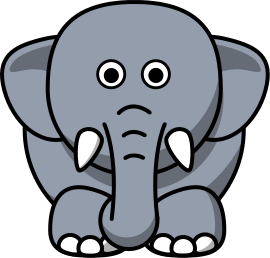 History
The OS/2 community discussed on the OS2World forums (and other sites) which should be a good mascot for OS/2. At some voting it became evidents that a lot of people liked the idea of an elephant as a mascot.
Why an Elephant
On OS/2 Warp there was a program that was a simple registraton form to regiter your product with IBM. A lot of people on the forums asked how to disable that program from boot, and it always showed a cartoon elephant on that form, that may be one of reassons why the OS/2 users consider an elephant a good mascot for the OS.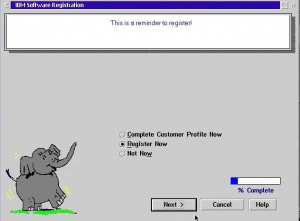 Image History
This mascot is based on a public domain cartoon elephant located in several free cliparts sites [1][2] [3]. The eyes were slightly modified by Martin Iturbide with Inkscape.
Download
Version 1.0
Derivated
License
Version 1.0 is Public Domain.
Credits
Version 1.0

Public Domain picture with eyes modified by Martin Iturbide.