Artie
Artie is one of the self-proclaimed OS/2 Warp, eComStation and other OS/2 derivate OSes community mascots.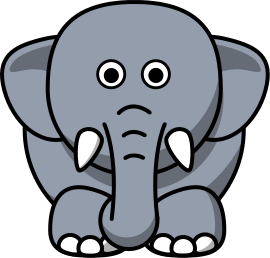 History
The OS/2 community discussed on the OS2World forums (and other sites) which should be a good mascot for OS/2. At some voting it became evidents that a lot of people liked the idea of an elephant as a mascot.
Why an Elephant
On OS/2 Warp there was a program that was a simple registraton form to regiter your product with IBM. A lot of people on the forums asked how to disable that program from boot, and it always showed a cartoon elephant on that form, that may be one of reassons why the OS/2 users consider an elephant a good mascot for the OS.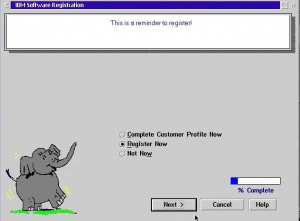 Image History
This mascot is based on a public domain cartoon elephant located in several free cliparts sites [1]. The eyes were slightly modified by Martin Iturbide with Inkscape.
Download
Version 1.0
SVG - Vectorial Format (2015/03/29)
License
Version 1.0 is Public Domain.
Credits