WatchCat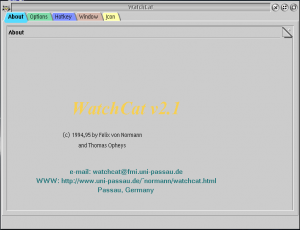 Task Killer for OS/2. This application also has a WPS class developed for it.
WatchCat is a program for OS/2 2.x / 3.x that makes it possible to recover from system hangs that block keyboard and mouse input. WatchCat can be activated by a hotkey or a hardware switch.
WatchCat's keyboard activation mechanism is not compatible with the use of PS/2 (bus-) mice.
In such cases, use other mechanisms.
WatchCat might disable some APM functionality.
Turn off WatchCat with the WPS object to enter hibernation or suspend mode.
On some computers, there are keyboard problems with the keyboard activation mechanism.
This is due to a timing problem in OS/2's keyboard drivers.
Use the non-device-driver hotkey mechanism or choose an alternative input method like joystick.
The new Process Manipulation Center lets you kill processes by forcing them to generate a breakpoint exception, kill, suspend, resume and change priorities of single threads of running processes.
The unregistered version of WatchCat only features a demo version of this tool (you can use above features only five times).
WatchCat can be activated by CTRL-ALT-DEL. See the documentation.