Kon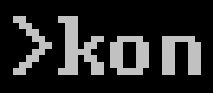 Kon is a text editor suitable for most editing tasks, including programming, but is not intended to be a complete IDE. Instead, the focus is to be a fast and easily available editor to be used for most tasks where viewing or editing a text file (or in some cases a binary file) is involved. See of it as a super-charged replacement for notepad.
Features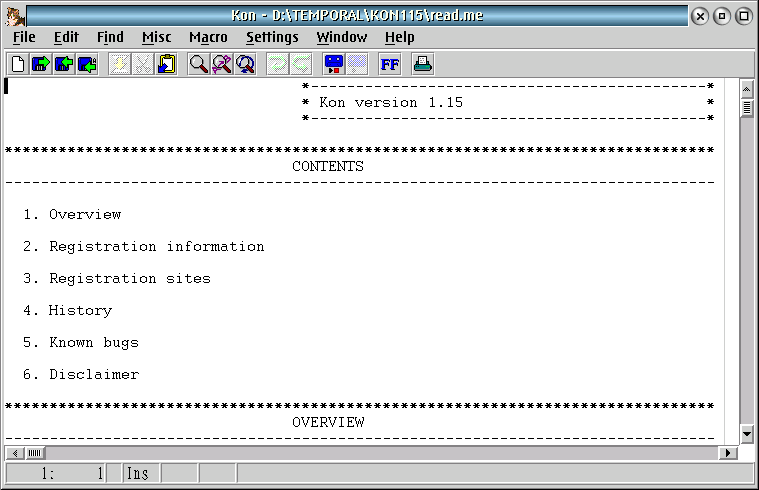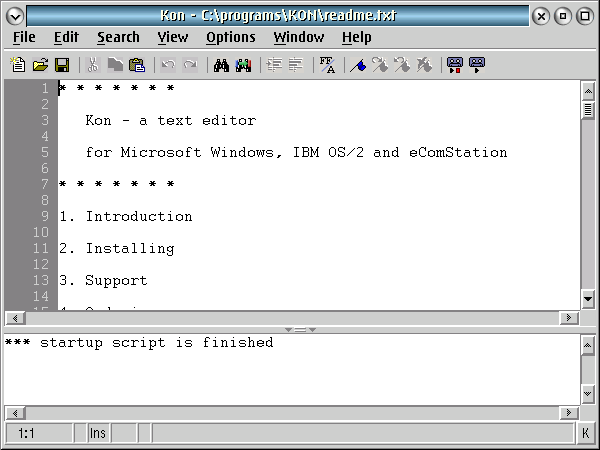 Kon is designed to be intuitive and easy to use but still has a great number of useful features such as:
Easy to configure syntax highlighting
Syntax highlighting can be defined using regular expressions
Code sections can be defined using regular expressions for fast navigation.
Built-in C-like programming language (K) which can easily be used to extend the editor with new features, modify or extend menus, give different behaviour etc.
Search and replace over multiple files, also recursive search/replace on disk
Regular expressions in search and replace (with grouping of sub-expressions)
Hex-editor which can be invoked on any file at any time
Advanced macro recording/playback while still very quick and easy to use for repetetive tasks. Recorded macros results in K-code which can be edited
Can add column separators with description for use with fixed-width data text files
Configurable key-bindings for any sequence of commands
Column selection copy and paste
Word wrap
Prints 2-up, page headers and footers, hex-printing, odd or even pages
Documentation
Links
Download
License
Kon is open source software under the LGPL license.
Reg code: os2world.com. / i1f7-C4A8-i3f0-V1r8-C0A3
Author