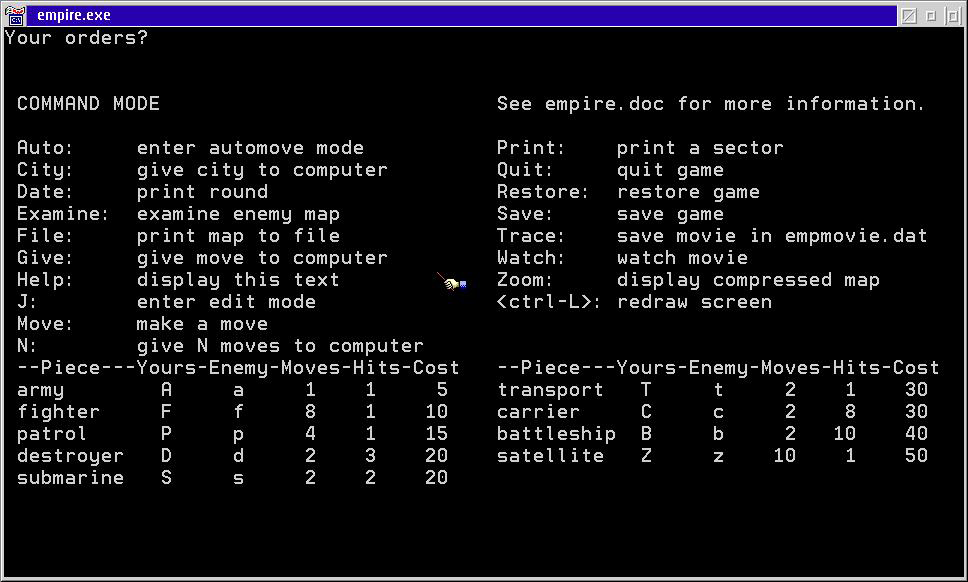 (Cllick on the screenshot to enlarge)
| | |
| --- | --- |
| Game Type | Adventure |
| Cost | Freeware - Open Source |
| Web Site | N/A |
| System Requirements | OS/2 2.1 or later |
| Version Available | ?? |
| Download | |
| Latest Update | 1994-Sep-27 |
Synopsis:


This version of empire has Satellites and no nukes, Fighters move up to 8 per turn and consume no fuel 'on station'. Otherwise rules are very similar to  those of the MS-DOS version of empire (Version 5.00, MS-DOS release 1.1, compiled for DEC REGIS graphics, FORTRAN coded).

By Chuck Simmons (amdahl!chuck)  & Ed James 

OS/2 port by David J. Looney.