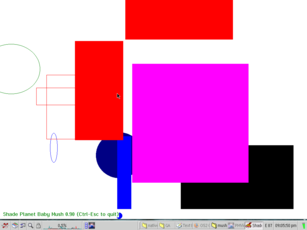 (Click the screenshot to enlarge)
| | |
| --- | --- |
| Game Type | Other |
| Cost | Shareware - US $5 |
| Web Site | ?? |
| System Requirements | OS/2 3.0 Warp or later |
| Version Available | 0.9 |
| Download | 21 KB |
| Latest Update | 1995-Mar-09 |
Synopsis: 
Baby Mush is an OS/2 clone of the various "bang the keyboard" games available for small children on the Mac and other platforms. The game is very simple, anytime a key or mouse button is pressed a shape appears on the screen and a sound is played through the PC speaker. 
Baby Mush is a full screen Presentation Manager program. It cannot be moved or minimized. This is necessary to protect your important stuff from any baby playing the game. To shut down Baby Mush you must use CTRL-ESC to call up the program window and close it from there. 
Created by Thomas McKibben II (Shade Planet Software).